Prince Harry and his wife Meghan Markle stepped down as senior members of the Royal Family in March 2020 a few months after moving their life across the Atlantic ocean. Since then, the couple has been at the forefront of many controversies.
Discover our latest podcast
These are either led by the British tabloids who can't seem to find one good thing about Meghan Markle or they are triggered by some of the couple's own actions. For instance, their revelations on Netflix or in Prince Harry's book led to many stories being written.
Because of all this, their popularity has plummeted and it is now showing in the population.
Harry and Meghan's popularity at the bottom
A poll conducted by YouGov which monitors the popularity of royals for the second half of 2023 revealed what was already expected: Meghan and Harry have been tarnished by their many scandals.
In their poll, the Sussexes rank 11 and 12 out of 14 royals. They are just above Princess Beatrice and Prince Andrew. On the opposite side of this poll are Prince William and Princess Kate, respectively second and fourth.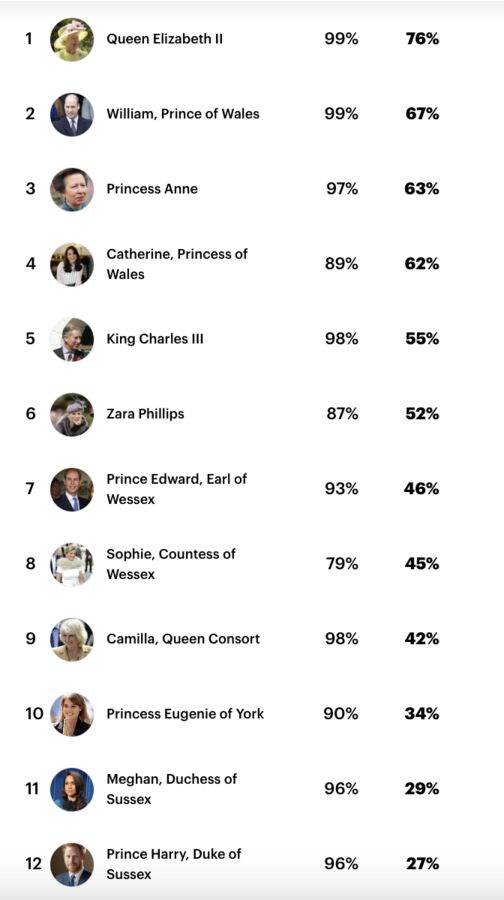 Read more:
⋙ Welcoming Prince Andrew back could be a huge mistake for the Royal Family, 'he's the most dangerous'
⋙ Prince Andrew once again protected by royal protocol: 'Something is being hidden' claims expert
Baby names are influenced by pop culture
An article published by The New York Post on 24 September reports the findings of an analysis by BabyCentre. It reveals that the names Harry and Meghan have dropped in popularity.
Baby Centre concludes:
Crashing down from 13th place to number 23, the previously popular name Harry seems to have had a negative reception from parents this year.
The same trend has followed the name Meghan, no matter the alternative spelling. Baby Centre directly links this drop in popularity amongst parents to the scandal the Sussexes have been involved with.
Prince Harry and Meghan Markle have also made their mark in the media, following the release of their controversial documentary and Harry's memoir Spare.
The analysis from BabyCentre also reveals that baby names are directly influenced by pop culture. For instance, the names Holly and Phillip are also losing popularity because of the scandal surrounding the This Morning hosts.
Nevertheless, names likes Charlotte have seen an increase thanks to the Netflix mini-series Queen Charlotte. Other names from the Bridgerton universe have made their way to the most popular baby names list like Violet or Penelope.
Popular show Succession has also helped names like Logan, Roman or Hugo. The Cottage Core trend also translates into baby names as flowers like Lily or Dahlia.
Read more:
⋙ Prince Harry and Meghan Markle as world leaders: Is it so hard to imagine?
⋙ Prince Harry and Meghan villainized once again by former royal staff in bombshell claim
Sources:
Baby Centre: BabyCentre reveals half-year baby name charts with celeb gossip causing drama
YouGov: The Most Popular Royalty (Q2 2023)
New York Post: 'Harry' and 'Meghan' baby names lose popularity amid royal drama: study