This morning, Kate Middleton confirmed that she had taken over as Patron of the Rugby Football League and the Rugby Football Union—a patronage that used to be Prince Harry's up until 2021. She announced the good news on Instagram and posted a surprising video in which she showed off her sporty side. She wrote in the caption:
I am so thrilled to become Patron of the Rugby Football League and Rugby Football Union – two fantastic organisations who are committed to harnessing the power that sport can have in bringing communities together and helping individuals flourish. I look forward to working with them across all levels of the games, and to cheering England on in what promises to be an exciting year for both sports! C
The news comes as the Six Nations Championships are set to begin on 5 February, with the first game taking place between Prince William's Welsh team and Ireland.
Read more:
⋙ Prince Harry's royal patronages are finally being given away
⋙ Kate Middleton could get one of Prince Andrew's most prestigious titles
Training session
The Duchess has been wasting no time in her new role as Patron of the English team, as she was captured participating in her first-ever training session just moments after her announcement. Brand-new photos of her getting down and dirty with the players have been revealed, and we must say that this sport seems to suit the royal pretty well. It looks like she knows exactly what she's doing!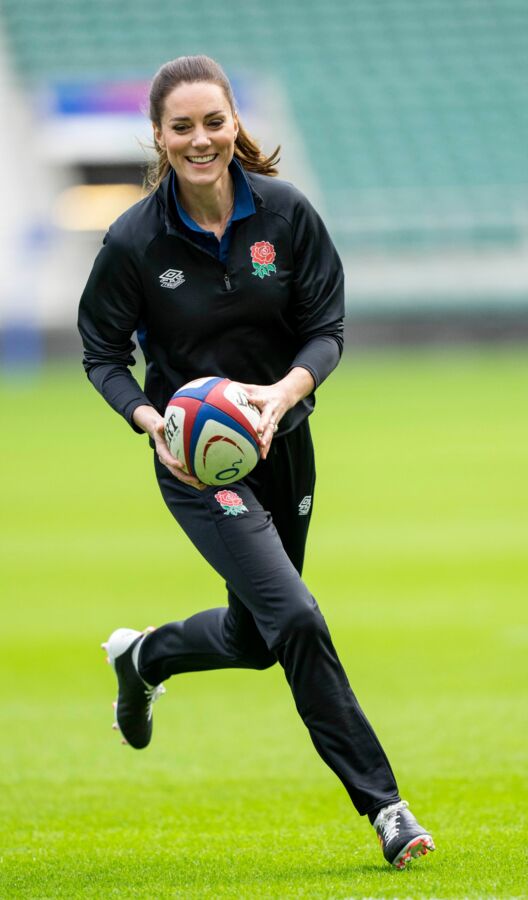 Read more:
⋙ Unseen photo of young Kate Middleton has been revealed
⋙ Kate Middleton: Where to buy a dupe of the Duchess' red gown from her 40th birthday portraits
Her outfit
Kate Middleton has made it a habit to look absolutely stunning no matter what she is doing. In fact, no one has ever looked this good while playing a sport that is supposed to be rough, tough, and frankly a little scary. And as always, she's also picked out the right outfit for the occasion. According to Mail Online, she is wearing £50 pants and a £50 zip-up top from Umbro, and her shoes are £90 rugby boots from Adidas.