This week dating app Tinder revealed a new feature they're calling 'the biggest update since the invention of the original swipe.'
What is Tinder's 'Explore' feature?
The new feature called 'Explore' will allow users to find their ideal matches easier and faster, allowing them to search for potential beaus by interests or 'Passions'.
The new Explore feature includes interests such as Foodies, Gamers, Social Causes, Music Lovers, Thrill Seekers, Animal Parent, Self Care. And, the feature is pretty easy to use; just select the window and tap whichever passion you'd like to filter by. From there, the app only serves up those who have similar interests.
However, the explore feature doesn't just serve up matches with shared interests; you can also access familiar Tinder experiencessuch as the Vibes compatibility test; Swipe Night, a choose-your-own-adventure game that results in potential matches; and Hot Takes, a new feature that allows users to talk about their controversial opinions.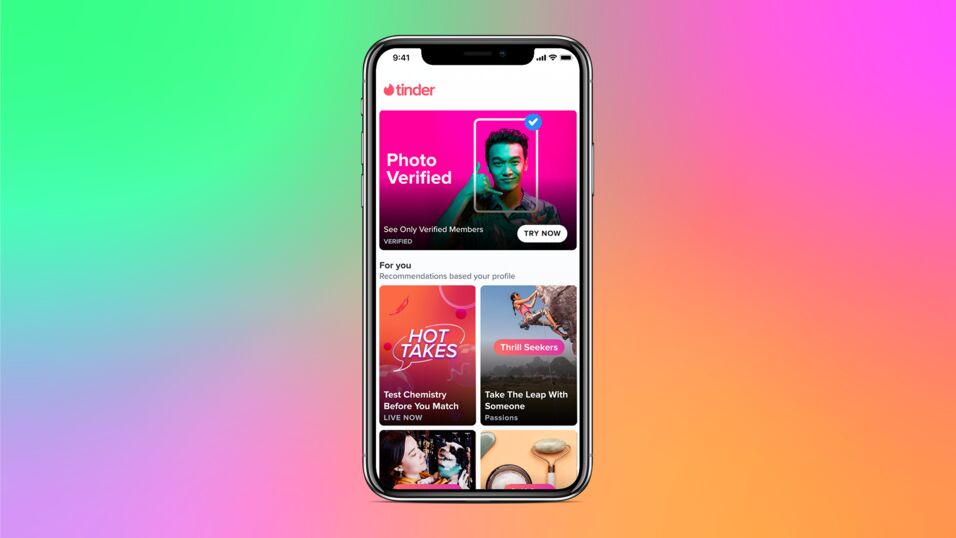 Tinder tries to appeal to Gen Z users
The Explore page comes as part of Tinder's new goal to attract Gen Z, a generation who are famously straying from the likes of online dating. Tinder hopes to draw in new users by making the platform a more interactive, social-media-esque experience, and, so far, their efforts haven't been in vain. The platform revealed that upon trials, 80% of those eligible flocked to try the new feature.
Previously released features such as Swipe Night and Hot Takes have also proven popular, with Swipe Night drawing in 20 million users and resulting in a 26% increase in matches.
CEO of Tinder Jim Lazone announced: 'A new generation of daters is asking for more from us in the post-Covid world: more ways to have fun and interact with others virtually and more control over who they meet on Tinder.'
Today's launch of Explore is a major step in creating a deeper, multi-dimensional, interactive experience for our members that expands the possibilities of Tinder as a platform.
Other dating apps such as Bumble and Hinge are also seeing similar interactive updates as Gen Z audiences are increasingly desiring more meaningful connections, which can't be provided by a few photos and a short bio.
Tinder's Explore page was rolled out across all English speaking countries on Wednesday the 9th of September and will be available around the world by mid-October.