After years in captivity, these bears see freedom for the first time
Brought up in captivity, two bears and their young cubs enjoyed an outdoor experience for the first time in Ohio in the United States.
In 2011, the city of Zanesville, Ohio was the scene of a grim massacre.The owner of a private zoo decided to end his life after having knowingly opened the cages of his 50 wild animals.
During the following weeks, the authorities tracked the escaped animals, and in order to prevent them from attacking the city's inhabitants, they had to take down many specimens: lions, tigers, bears, grizzlies, cheetahs and wolves.
Finally free
Previously held captive in backyard cages or roadside zoos under deplorable conditions, most of the escaped animals were rescued by officials of the Ministry of Agriculture. Among them, nine bears were saved, including two females and their babies.
All these animals had suffered from abuse and neglect,and the PETA organization decided to step in and find a new home for them. By joining the Wild Animal Sanctuary, these animal rights activists managed to transfer the animals to a large nature reserve.
In a statement, PETA reported on the deplorable state in which the bears were found: 'Some were underweight, while others were overweight, some had their claws torn off or their teeth were broken and some suffered from intestinal parasites.'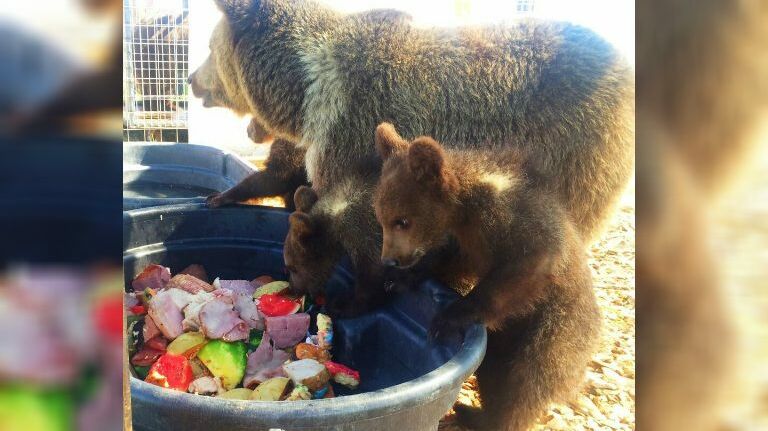 A first trip into the open air
Fortunately for these survivors, these years of abuse are far behind them. The animals have gotten used to their new habitat and have even been able to take their first steps in an outdoor enclosure. A luxury that many of them had never known before.
In this video, we can see the moms and their little ones discover these new sensations. According to PETA, the two females were still pregnant when they were removed from their owners.
Generally, cubs born in captivity are immediately removed from their mothers. However, these female bears will be able to raise their youngsters with complete peace of mind. After having taken a beating, these small world bears will live in larger spaces, where they will finally be able to enjoy some pleasant and well-deserved time together.