Sally Whitney had quite a normal life until she was 17 years old when she was diagnosed with lupus. The teenager suffered from constant seizures and fainting spells and was increasingly losing function and mobility in her body.
An unfortunate diagnosis
This girl, who wanted to become a doctor more than anything, was forced to give up her dream of studying medicine because of her condition. Shortly after she started studying humanities instead, she was hit by a second tonne of bricks. She was diagnosed with Ehlers-Danlos syndrome, a condition that affects the organs, bones, muscles and blood vessels.
Not long afterwards, the young woman lost control of her body almost completely. She was only able to move her right arm and since she was bound to her wheelchair, she also needed constant help from a carer. Even though she felt like she was a burden because she couldn't do anything or give anything back, as The Mirrorreported, she still enjoyed life.
Her dog Ethan was her salvation
Still, there were days and weeks when the woman from Brighton wasn't doing so well. One day, her cousin found outthat assistance dogsnot only existed to aid blind people, and suggested his cousin get one for herself. The 31-year-old was very enthusiastic about this idea. Hailey Ashmore is just one example of a woman who ended up loving her assistance dog more than anything.
In 2015, Sally got herself aLabrador-Golden Retriever cross named Ethan. At the time, he was 14 months old and, like Mahe, had been trained to make Sally's everyday life easier. For example, he would give Sally the shampoo and a towel when she showered and would even pay at the supermarket checkout with his owner's contactless card.
Ethan showed Sally unconditional love and as a result, the woman gradually got her confidence back. The young woman was even able to finally find work at a university and put everything she had into her work. The only thing missing from her life now was a man.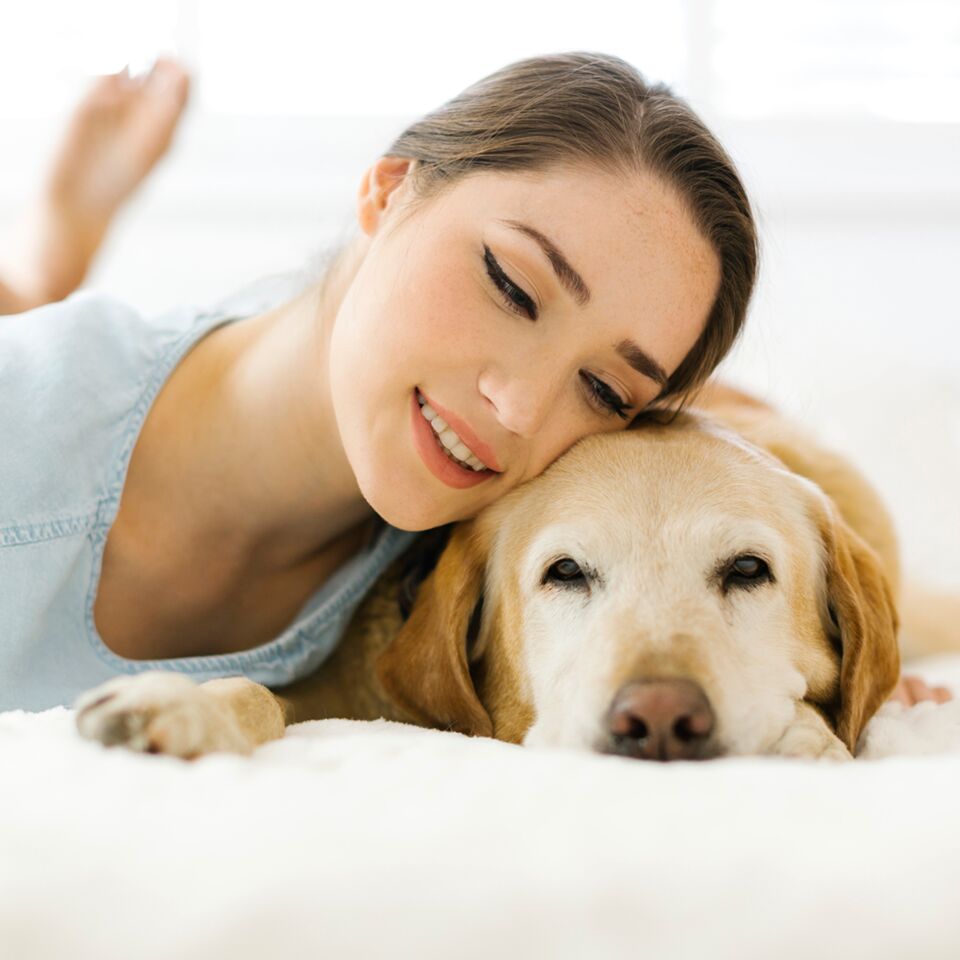 He even helped her find love
According to The Mirror, the 31-year-old woman consequently decided to log onto a Christian dating website where she described the close relationship she had with her dog and one man was not intimidated by this: a 35-year-old math teacher named Ed. In 2016, they went on their first date, accompanied by her loyal dog, Ethan.
It was love at first sight and although Ed didn't own any pets himself, he did surprisingly well with Ethan. Ed and Sally's relationship was wonderful and it wasn't long before the math teacher proposed to her - and where else - while they were out walking Ethan together!
Marriage proposal
While Ethan was playing with his squeaky ball, Ed knelt down in front of his loved one and asked her to be his wife. Her yes was lost among the squeaks from Ethan's ball in the background and in 2017, the two lovebirds got married. And don't for a second think that their four-legged friend was absent from the ceremony because he even walked the bride down the aisle and was also the ring bearer.
This amazing story shows that you shouldn't get hung up on difficult situations and that something good is always around the corner. Thanks to herloyal dog, Sally found the courage to venture out into the world again, and was rewarded for this bravery with her loving husband.