Elizabeth Hurley, known for her frequent bikini pictures on Instagram is most importantly an actress as well as an animal activist. But, maybe, her most significant role is the one of mother to her only son Damian.
Discover our latest podcast
The two have always had a close relationship. In 2018 she explained: 'being an only child of a single mother has meant that we have spent a great deal of time together.'
This can be seen in their respective Instagram posts where they share their holiday pictures as well as celebrate each other's achievements.
As he grew up the time they spent together extended outside the home as they co-starred on the TV show The Royals.
And, in December 2022, Damian announced on Instagram that he had finished filming his firstever film, Strictly Confidential starring his mother.
In June 2023, details of the movie came out including one about Damian directing his mother in an intimate lesbian scene.
Read more:Amanda Holden and all the men in her life, from Les Dennis to Chris Hughes and Neil Morrissey
Internet reacts: Elizabeth Hurley directed in sex scene by her son
When news broke that Elizabeth Hurley has been directed in an intimate scene by her son, the internet went wild. Numerous articles have been written about it in publications such as the Daily Mail, The Mirror and Page Six.
Because the titles of these articles solely focus on the fact that Damian directed his mother in an intimate scene, only one kind of reaction has been spotted: disgust.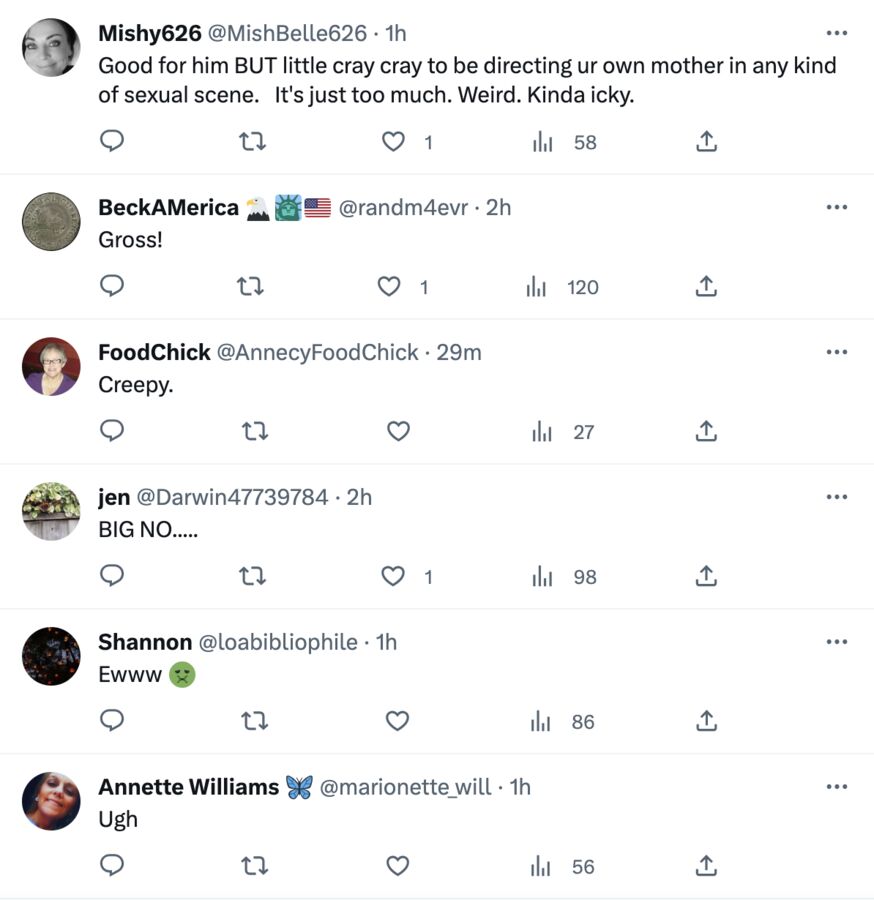 On the other hand, when Damian shared that he had finished filming his first film the comments were much more positive and focused on praising him for his achievement.
One user says:
You were born to shine D!! ✨👏👏👏 what an achievement, this is a huge moment in time. You put into action what you were born to do! Amazing 🌟 Wish I could hug you ❤️❤️❤️❤️❤️
While another adds:
Congratulations!!! You can be so proud of yourself! 👏👏👏❤️
Elizabeth and Damian Hurley's working and personal relationship
While it is understandable that people reacted that way to the news of a son directing his mother in an intimate scene, it is important to provide some context.
First, it is key to know that the pair has already worked together. Indeed, they were co stars in The Royalsfor several years.
They have also always supported each other. Constantly cheering each other on on social media.
In an interview Elizabeth shared:
He's been such a supporter of the show (The Royals) and indeed of me for his whole life. and to have him actually be in costume, mic-ed up, doing his lines, I was proud.
As the mother that she is Elizabeth also gave her son some brutally honest professional advice as he started his acting career:
The only advice I gave him was to learn his lines and not be annoying
Moreover, as the Daily Mail says, Elizabeth had already been directed by her son when he was shooting a short film when he was just 8.
Already, the fact that they are working together again makes more sense.
Now, when Damian Hurley shared his joy on Instagram over finishing his first film he praised his mother and thanked her for fulfilling a promise she had made him when he was a child.
during the making of my first ever short film back in 2010 (when I was 8 🤓) (she) promised me she'd be in my first feature; true to her word, the minute this film was greenlit, Mama dropped everything and raced out to the beautiful Caribbean to help.
He finished by saying:
Working together was a dream
Strictly Confidentialdoesn't have a release date yet so people will have to keep waiting to have a full opinion on that scene that already made so much noise.
Read more:Katie Price's 8-year-old daughter Bunny reveals she wants to be just like her mother
Sources:
Hola!: ELIZABETH HURLEY'S HOLLYWOOD ADVICE TO ACTOR SON DAMIAN IS PRETTY SIMPLE: 'DON'T BE ANNOYING'
NZ Herald: Elizabeth Hurley stars in new erotic thriller Strictly Confidential directed by 21 year old son Damian Hurley
People: Elizabeth Hurley Gives Advice to Her 15-Year-Old Son as He Begins His Acting Career
The Daily Mail: Damian Hurley makes his directorial debut by filming his own mother in risque scenes with another woman - after being unveiled as the photographer behind her bikini snaps
Twitter
Instagram