The RSPCA animal inspector Sian Ridley couldn't believe her ears when she received a call from a kind-hearted member of the public about 20 puppies found on a lay-by near Fryerning, Essex, England. But after she and her colleague animal rescue officer Enola Evans arrived at the scene, they were confronted by the devastating sight of 20 tiny pups inside the metal cage, all distressed and fighting for survival.
'I actually thought there was a mistake'
Sian said:
When I was told how many puppies there were I actually thought there was a mistake - I couldn't believe that someone had abandoned 20 puppies!
The animals were collected and rushed to a local vet for treatment. The puppies looked like they had been through a lot.
Sian added:
They were all quite scared and timid when we arrived, and it was just heartbreaking to see them all huddled in the one cage - they looked a pitiful sight.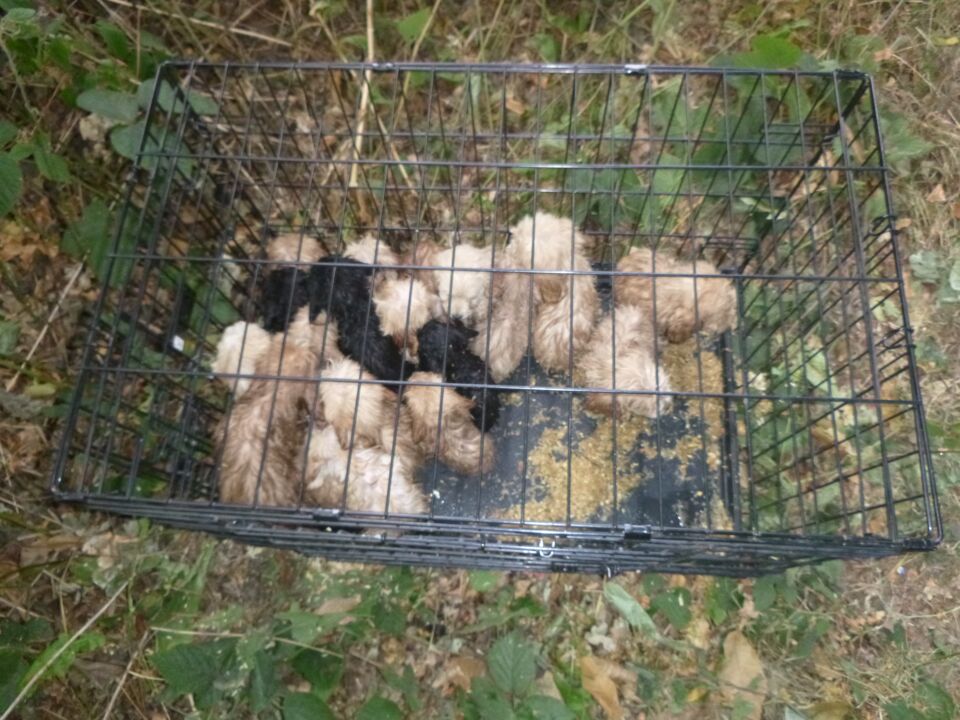 'A heartbreaking decision'
One of the female pups was very weak when the abandoned animals were first sighted by a member of the public, who kindly kept her warm until the inspectors arrived. The suffering dog was then handed to one of the officers who continued cuddling her during their journey to the vet. Sadly, the puppy was too unwell, and the heartbreaking decision was made to put her to sleep to prevent further suffering.
The 19 surviving pups were all in good health, apart from some having worms. The vet ruled out the parvovirus that was suspected earlier. They have been given fluids with glucose.
'Young and vulnerable'
The pupsare believed to be aged between six and eight weeks. There are 14 males and five females, all small and each weighing 'less than a bag of sugar'. Some are thought to be cockapoos or poodle crosses, and the others jackapoos.
It is unclear why these young and vulnerable pups were abandoned.
Sian Ridley commented:
It is also unusual that such a large number of the pups are male, and I wonder if that was the reason they had been abandoned because they wouldn't be useful for breeding or are harder to sell on.
All the pups are currently in foster care, with many already offered forever homes.
Why are there so many abandoned animals this summer?
The RSPCA opened an investigation into the case. The organisation that currently receives nearly 250 reports every day, is extremely concerned about the rise in animal cruelty this summer. They fear the cost of living crisis could be leading owners to make difficult decisions.
This incident comes as the RSPCA launches itsCancel Out Cruelty fundraising campaign to help its frontline teams save more animals during the busy months.
Head to RSPCA's website to learn more about the charity and support their vital animal welfare and rescue work.
Read more:
⋙ Russian soldiers beat this dog and loaded it with explosives in a bid to kill more innocent civilians
⋙ These dogs were about to be 'brutally killed by electrocution' and eaten for a festival
⋙ Tiny 'skeleton' dog on the edge of death rescued from a 'house of horrors'