When couples find themselves in a bit of a sexual slump or feeling extra adventurous, it's not uncommon to do a little internet research on some exciting ways to spice things up in the bedroom. Unfortunately, nobody has to go beyond the first page of Google results to find that most plough, pretzel and reverse cowgirl positions are designed for heterosexual pleasure. It's just not fair!
Luckily, there are tons of experimental positions for same-sex couples, and to make your search easier, we've curated a selection of the kinkiest contortions that will guarantee pleasure no matter your anatomy.
Earth-shattering positions for lesbian couples
1. The rodeo
Get on top of your partner and position yourself between their legs. Then, and grind yourclitorisagainst their public bone while they simultaneously rub against you. To make things extra sensational, you can even use your hands to explore each other or reach around and finger your partner.
2. The hug
Have your partner sit on a chair while you straddle them. This steamy face-to-face sex position creates total access for kissing, nipple-play and allows you to each other's genitals. Basically, it's the perfect position for intimacy.
3. The pole dancer
While you're still on the chair, sit with one leg up with your foot resting on the seat. The other partner can then stand over your leg, facing away from you while they grind their clit against your leg while they finger you. To make things even spicier, you can even reach your arms around and stimulate your partner's nipples.
4. Doggy style
One partner should position themselves on all fours while the other gets behind them on their knees. The vertical partner can then use their hands to penetrate the other from behind while reaching around to stimulate their clit with the other hand. This position provides both clitoral and vaginal stimulation, perfect for those who love a blended orgasm.
5. The eagle
The eagle position is perfect for hands-free pleasure. To get into the eagle, lie on your back with your legs spread in the air. Your partner can then lie on top and align their clitoris with yours and rub away. You can even rest your legs on your partner's shoulders or use pillows to get a different angle.
Mindblowing positions for gay couples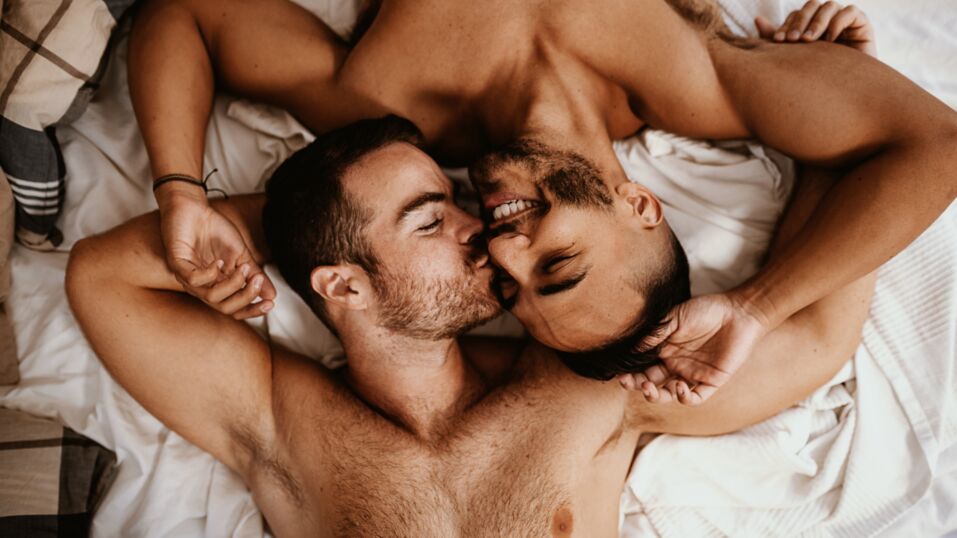 6. The wheelbarrow/cliff diver
This position is for both the strong and the flexible. What you want to do is get into standing doggy style. Then, the standing partner can lift you from the waist so you can wrap your legs around them. You will need to keep your hands on the floor for stability. If you're both feeling extra adventurous, try the same position but facing towards your partner - this is known as the reverse wheelbarrow.
7. The rusty trombone
The rusty trombone is perfect for mutual satisfaction. This popular take on the classic '69' involves both cunnilingus and analingus. All you need to do is lie down and have your partner lie on top of you, facing towards your feet, with their butt near the bottom of your mouth. Voila! Now, you're both free to enjoy the eye-rolling pleasures of oral.
8. Knees up
Lie on the bed with your legs in the air and have your partner enter you while grabbing your ankles, legs or knees and pushing your legs back towards your chest. The further back your legs go, the tighter it will feel. For a little extra exploration, hold your own legs back while your partner enters you from different angles.
9. Reverse standing cowboy
It wouldn't be a true kinky sex list if it didn't have some kind of cowboy variation. To get into this position, have your partner sit or lie down, then face away from your partner and straddle them and have them enter you from below. This position also leaves your hands free to give yourself a little extra pleasure while you bounce up and down.
10. Reverse kneeling warrior
If you made your way through these positions and are still thirsty for something more, try the reverse kneeling warrior. Getting into this pose can be tricky, but as always, lube goes a long way. To do the reverse kneeling warrior, have your partner lie on their back with their knees spread wide. Then, kneel on your hands and knees with your butt facing towards your partner so you can control entry, speed and depth of penetration.