There is a fashion trend that will never go cheesy or overrated: PINK!Make room in your wardrobe this winter for the happy hue.
Whether it be for winter or summer, pink is always a good choice. While colours trends come and go, our wardrobe cannot get enough off fuchsia pink, light pink, champagne pink, piggy pink... It's safe to say there is a pink for anyone of us.
The 'Happy' singer Pharrell Williams may be wearing a normal everyday outfit of jeans and a T-shirt in this snap, but he's kicked the look way up with a Pepto-pink coat.Take this as a fashion statement!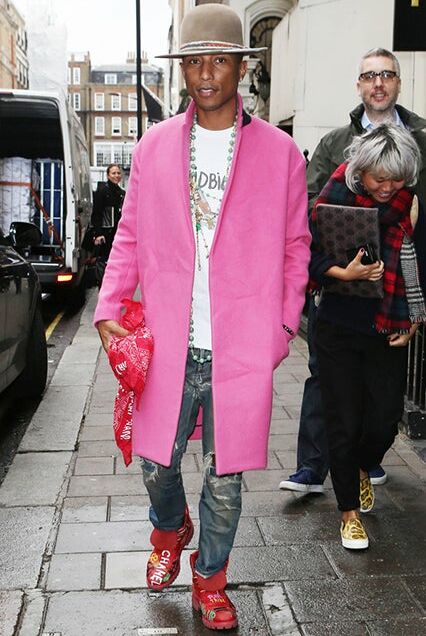 This pink brushed jacket from Top Shop has a super soft-touch finish, fashionable and feminine it's made ok 64% polyester and 21% Wool and the best news is its price, while it looks so much more premium than its price tag suggest, you can purchase this must-have coat for only £39.00, so make sure you have yours before it's all sold out!
This jacket is perfect to complete a total camel or black look, you can also be a little more daring and risk a totally pink look. If you are not ready, it'll look just as good with grey jeans and burgundy boots as it will with a sequinned dress for any party you'll get to!
As for accessories, this coat can be worn with sneakers as well as high heels. Feel free to try and play with fashion, this coat will allow you to take more fashion risks so make sure you get yours!