According to the Japanese newspaper The Mainichi Shimbun, more than 30 green sea turtles on the edge of death were discovered by the locals on the remote island of Kumejima in Japan.
'Found with stab wounds and unable to move'
The found sea animals suffered stab wounds to their necks and flippers, and were unable to move. They were bleeding and barely breathing. Some of the animals were entangled in the nets, suggesting the link to the fishermen.
The local news site Asahi Shimbun reported that the staff of the Sea Turtle Museum of Kumejima rushed to the beach and were taken aback by the horrific scene.
One of the museum employees said:
I have never seen anything like this before. It is extremely difficult to process this.
The Kumejima beach, with a sprawling seaweed bed, is renowned for its green turtles who go there to feed.
'Stabbed them to get rid of them'
The Okinawa Prefectural Police has dispatched their officers to the scene and opened an investigation for a suspected instance of animal cruelty.
The Mainichi Shimbunwrote that one of the fishing operators said he 'had to stab' dozens of sea animals to remove them from his fishing nets.
He admitted:
A lot of them were tangled up in fishing nets. I disentangled some of them and released them into the sea, but I couldn't free heavy ones, so I stabbed them to get rid of them.
The islanders familiar with the local practice of gillnet fishing said that fishermen sometimes resort to brutal methods to free turtles entangled in their nets.
'An endangered species'
WWFdescribes the species as one of the largest sea turtles and the only herbivore in its family. The animals get their name from the greenish colour of their cartilage and fat. Like other sea turtles, they migrate long distances between feeding grounds and the beaches from where they hatched. This species is endangered and listed as threatened with extinction. Preservation activities are ongoing in Okinawa and Kagoshima in Japan, where the turtles lay eggs.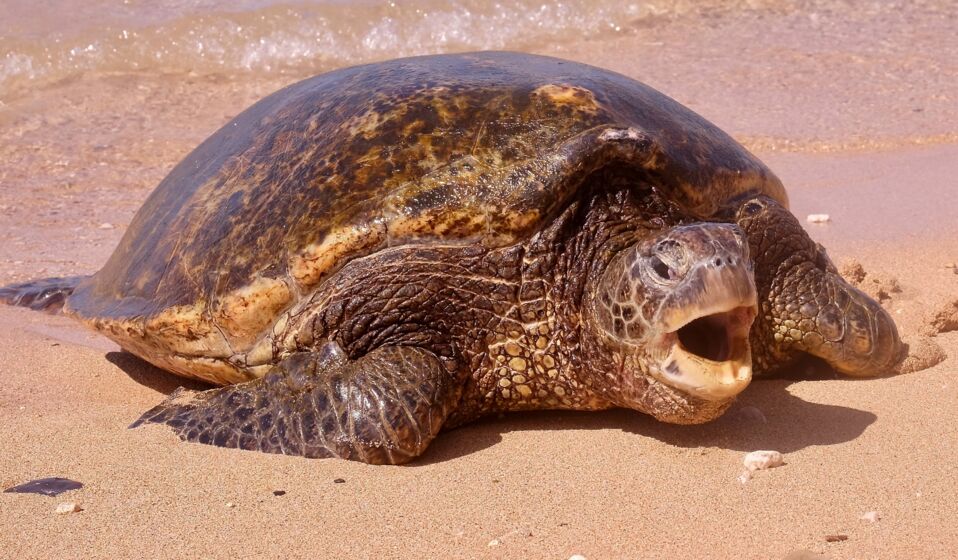 According to The Mainichi Shimbun's sources, an increased number of sea turtles who feed on harvested local speciality seaweed could cause discontent due to the 'significant damage to the business'. The newspaper contacted a Kumejima Fisheries Cooperative Association, but was told 'the person dealing with that is absent.'
Read more:
⋙ Watch the birth of hundreds of baby turtles on a Lebanese beach
⋙ Meet Mary-Kate and Ashley, the two-headed turtle with six legs
⋙ A farmer left shocked after spotting a baby seal in a wheat crop kilometres away from ocean