The Duchess of Cambridge is on her first-ever solo trip to Copenhagen for two days. However, it seems as though this visit is bringing up a lot of feelings that clash with her husband, Prince William.
The Lego Foundation Play Lab
The Duchess of Cambridge is on a two-day trip to Copenhagen on behalf of The Royal Foundation Centre for Early Childhood. Kate was spotted having fun as she decided to take the slide down instead of the stairs. The mum of three was giggling the whole way down, where she told the press 'you stood far enough away! In the spirit of where I am, I had to do it.'
During her visit to the Lego Foundation Play Lab, Kate mentioned that her three children, Prince George, Princess Charlotte and Prince Louis loved playing with Lego and she spent a lot of the half-term break playing with Lego with her children. She also said that her children were extremely jealous when they found out she was going to the Lego Foundation Play Lab.
The Lego Foundation Play Lab is a part of the University College Copenhagen, where students who are training to be early years professionals are encouraged to play.
Read more:
⋙ Kate Middleton reads favourite bedtime story during surprising TV appearance
⋙ Prince William's parenting tip to all the parents
⋙ Royal family: Prince Louis doesn't have to follow the same rules as his brother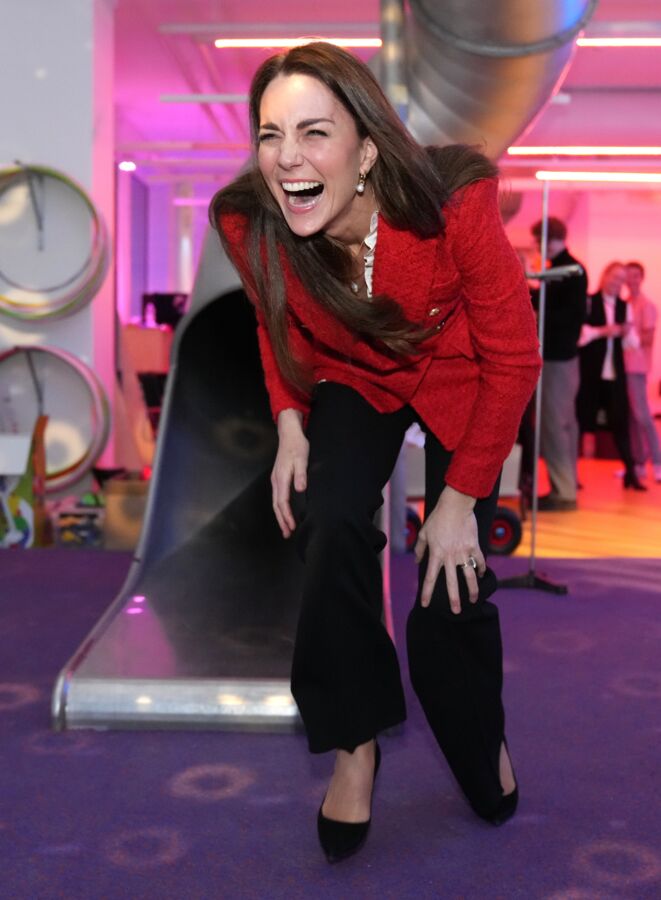 The Duchess is feeling 'broody'
During her trip, Kate expressed how much she adores children and when she's working with them she feels 'broody'. Prince William has previously teased his wife for this during their visit to Clitheroe Community Hospital where he jokingly said 'Don't give my wife any more ideas! No more!'
Kate told the press that her husband is always worried when she works with under one-year-olds as she always comes home saying 'let's have another one'.
Despite loving children, the Duchess of Cambridge acknowledged how difficult having a newborn is, saying:
There is so much joy and happiness associated with having a newborn baby but actually people don't necessarily talk about the worry or the anxiety that comes with having a newborn.
And particularly if you are noticing things with your own child that you feel you are worried about.