After winning the Conservative party leadership contest in 2022, Rishi Sunakbecame the first Prime Minister to be richer than the monarch of the country. Earlier that year, Sunak had already become the first frontline politician to be included in The Sunday TimesRich List of the UK's wealthiest people.
Discover our latest podcast
It is a disparity which may rankle with some of the electorate at a time when the country is going through a very difficult cost-of-living crisis. Here's everything we know about Sunak, his political journey, his private life, and his fortune.
Who is Rishi Sunak?
The new British Prime Minister was born in Southampton in 1980. A Hindu, Sunak is also the first person of colour to take the reins of England. The son of a doctor father and a pharmacist mother, the eldest of three siblings will take a very different path from that of his parents.
Indeed, after studies and a degree in business administration, he first worked at Goldman Sachs as an analyst and then with London hedge funds.
Political background of Rishi Sunak
Sunak's political career began in 2015 when he was elected Member of Parliament for Richmond (Yorkshire) and took up residence in the House of Commons. He was re-elected in 2017 and 2019.
A hardened Brexiteer, it is therefore natural that he takes his place alongside Boris Johnson. Sunak will first be Secretary of State for Housing before taking up his duties as Finance Minister.
Due to several disputes with the now former Prime Minister, Boris Johnson, he resigned from his position on July 8, 2022 in order to put pressure on his predecessor to leave his post. This will happen on the same day.
While he might have been seen as the successor, he is finally defeated by Liz Truss, who will take office on September 6, 2022, two days before the death of Queen Elizabeth II. A defeat that did not remain bitter for very long because 44 days later, the one who beat him resigned from her position and thus left the place empty.
Seen as the leader of the Conservative Party, he was chosen on Monday 24 October to become the new British Prime Minister, the third in just two months.
Read more:
⋙ Rishi Sunak facing criticism over 'heartless' response to woman's inability to afford a lightbulb
⋙ Rishi Sunak facing backlash after being caught breaking the rules yet again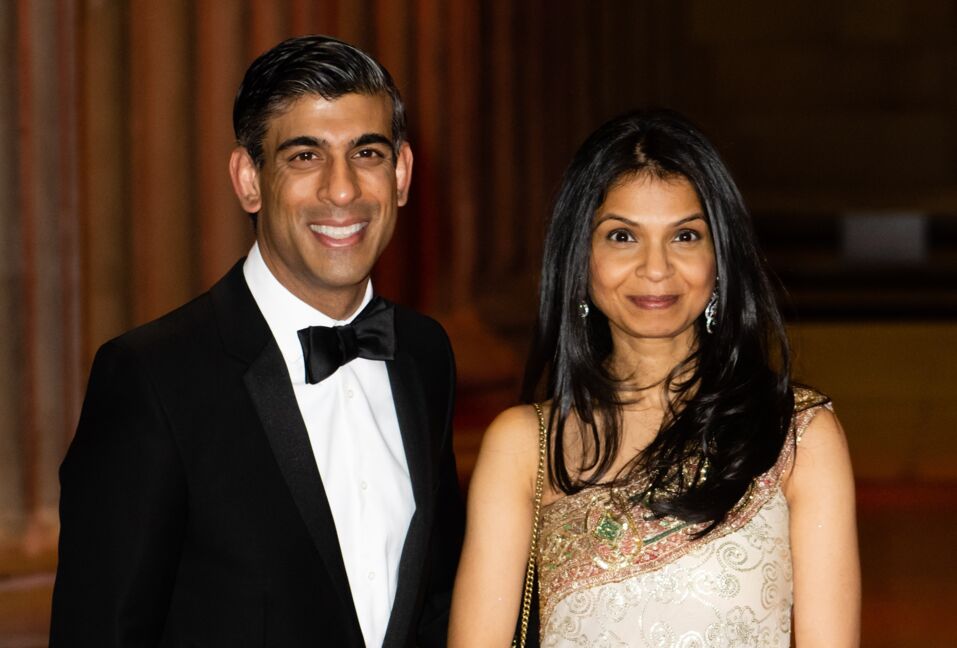 Rishi Sunak's private life
In his private life, Sunak is married to Akshata Murthy, daughter of N.R. Narayana Murthy, an Indian businessman who co-founded the IT company Infosys and has India's fifth largest fortune.
From his union with Akshata were born two daughters: Anoushka and Krishna. Not much else is known about his private life, apart from the fact that he is vegetarian and is passionate about cricket, the national sport in India.
Sunak has a fortune of £730 million
Sunak used to work for Goldman Sachs as an analyst and hedge-fund manager but the vast majority of his wealth comes from his marriage to Akshata. Between them they are believed to be sitting on a combined fortune of £730m, according to The Guardian.
Akshata is the daughter of the Infosys founder Narayana Murthy, and has a 0.93% stake in the company worth around £710m. In addition to this, Murthy owns Catamaran Ventures, a venture capital firm which is worth £3.5m, as reported by Market Watch.
The couple also own a portfolio of four properties, including one in Santa Monica, California. The home where they spend most of their time is a five-bedroom mews in Kensington, West London - thought to be worth around £7m.
Read more:
⋙ Rishi Sunak and wife reportedly facing heat over King Charles' coronation invite
Is Rishi Sunak richer than King Charles?
It is not so easy to value the King Charles' assets. Whilst theKing is extremely wealthy, a lot of what he oversees is held in trusts for his successors and the nation, and are for him to use but not sell. These assets include all the Royal palaces and the crown jewels and are thought to be worth around £42 billion, according to Forbes.
King Charles' personal fortune is estimated to be £370 million, having inherited the Queen's private estate as well as personal investments and jewellery collections. The King further benefits from an inheritance tax exemption, Forbes reports:
And Charles won't have to pay a shilling of inheritance tax, thanks to a 1993 agreement with the British government that exempts transfers of property from one sovereign to another.
This means that Sunak and his wife's net worth is roughly double that of King Charles, as reported by CNBC.
Whilst both can be said to be sitting very comfortably on large fortunes, Sunak will have to be careful not to appear out of touch with voters. With a general election happening within the next two years or so, he will be keen to connect with the electorate and his vast wealth could be an obstacle to that.
Certain parts of this article have been translated from Oh!mymag FR.
Sources used:
- The Guardian 'Does Rishi Sunak's £730m fortune make him too rich to be PM?'
- Market Watch 'The U.K.'s next prime minister is worth more than the king. Kind of.'
- Forbes 'How Rich Is King Charles III? Inside The New Monarch's Outrageous Fortune'
- Memorandum of Understanding on Royal Taxation
- CNBC: 'Britain's new PM is almost a billionaire — with a net worth twice that of King Charles'