The Queennever rests nor does she tire and in attest to that she has launched her very own brand of ginmade from the plants on the Sandringham Estate.
The Queen'sfavourite cocktail is gin and Dubonnet. So, if you ever wanted to drink like the Queen, now's the chance and you can even drink it with her very own gin.
The Sandringham Celebration Gin is made on a distillery located on the Sandringham Estate and is even made with Sharon fruit and Myrtle plants from the property.
Bottles of the new tipple are being sold on the Sandringham Estate website for £50 for a 50cl bottle. The product description paints a delectable picture of the gin that makes it sound like you're taking a sip of history:
Distilled locally, our gin includes Sharon fruit, a woody tree related to ebony, also known as the Chinese Persimmon and foliage from myrtle plants. The Sharon Fruit is grown in the Walled Garden on a sheltered wall at the end of what was a range of glass houses, built on the winnings of the famous racehorse, Persimmon, owned by King Edward VII. The foliage from myrtle plants also grown on the Estate, originated from a cutting taken from Princess Alexandra's wedding bouquet on her marriage to Prince Albert Edward, who later became King Edward VII and Queen Alexandra.
It is expected that the gin will also be sold in the Sandringham gift shop once lockdown restrictions are lifted.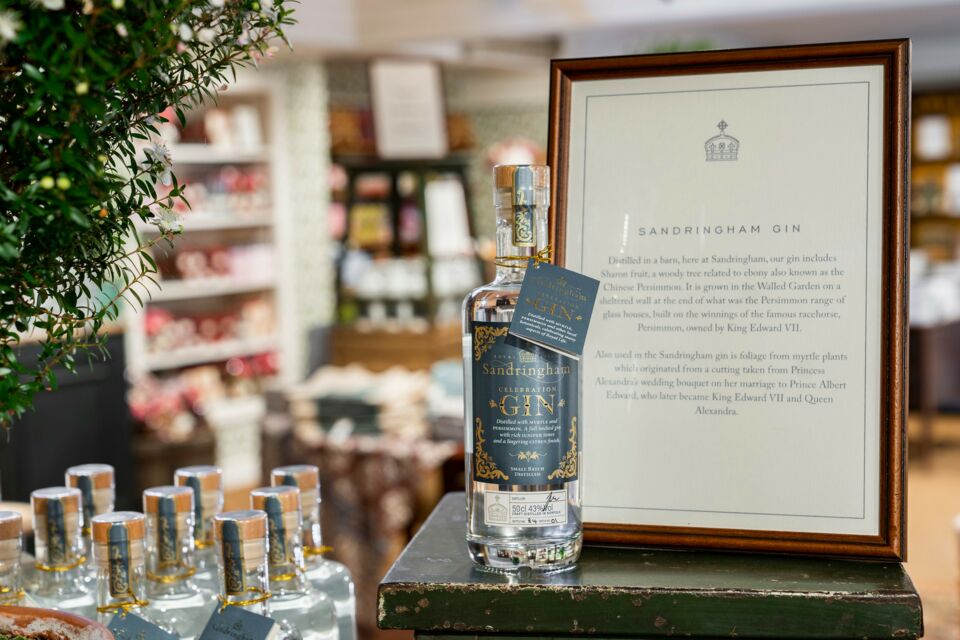 Not the Queen's first gin
The Sandringham Celebration Gin isn't the first one the Queen has come out with. Earlier this year Her Majesty released another spectacular tipple, The Buckingham Palace Small-Batch London Dry Gin.
The £40 bottle of the Queen's finest includes citrus and herbal notes derived from 12 different types of botanicals such as lemon verbena, hawthorn berries, bay leaves and mulberry leaves all from the Buckingham Palace gardens.
Bottles of the London dry are on sale at the Royal Collection Trust shops. And, all profits of the product go directly to the charity known as the Royal Collection Trust, which is dedicated to the maintenance, conservation and promotion of access to the Royal Collection.
You can purchase a bottle of the Buckingham Palace Small-Batch London Dry Ginhere, or even better, you can try the Queen's new Sandringham tipple here.