Courgette chocolate cake, quick microwave chocolate cake, apple sauce chocolate cake... Whether from a chef or an amateur blogger, you'll find new recipes for chocolate cakes every day.
If you're looking for a healthier and more balanced option, we've got just the thing: a vegan, no-bake, gluten-free cake!
A chocolate cake with only three ingredients
Created by food blogger and Youtuber David Davidov (@thecookingfoodie), this recipe is appealing because of its low quantity of ingredients and its speed of execution. It takes only ten minutes to make, but you'll need to wait at least four hours before you can eat the cake.
At a time when we are increasingly careful about what we put on our plates, The Cooking Foodie's minimalist recipe not only seems to tick all the boxes, but it is also ultra-fast:
Vegan
Gluten-free
Butter-free
Flour-free
Egg-free
Lactose-free
No baking
Don't worry, it's still delicious thanks to the use of coconut milk, which adds creaminess and consistency to the cake. Without sugar and with oatmeal as flour, it is a true diet ally that you can eat without any guilt. Let's get cooking!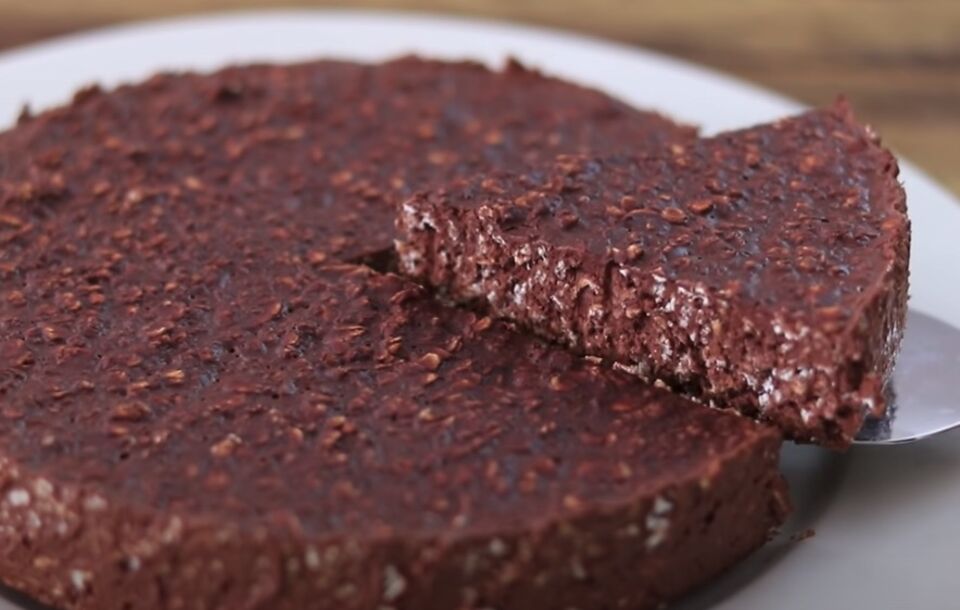 The recipe for flourless, sugarless, and butterless chocolate cake
Ingredients for the recipe:
Steps to follow:
Butter a 7 inch round cake tin.
Put greaseproof paper in the bottom and butter it.
Place the chopped chocolate in a heatproof container.
Bring the coconut milk to the boil in a saucepan and pour over the chocolate.
Leave to stand for two minutes, then stir until the chocolate has melted.
Then add the oats and mix.
Pour the mixture into the tin.
Leave to cool to room temperature and place in the fridge for at least 4 hours.
Serve with fresh fruit.
Tip: Although it's very healthy, this sugar-free cake may not be to everyone's taste. The food blogger recommends adding one or two tablespoons of sugar (preferably brown) to the coconut milk before bringing it to the boil.