It is normal for society to evolve as new generations arrive. Often, these changes happen as people question already existing norms. One of the ones that the newer generation is trying to change is what is considered 'men's and women's clothing'. Certain celebrities have been helping this stance. Just recently Brad Pitt joined the team.
It is just fabric
For years now clothes have had a 'gender', where certain items are considered to be only for men and others only for women. What is considered to be for men and for women often changes through the ages. Indeed, during Georgian and Victorian times both men and women wore makeup and high heels. But in today's society, makeup, skirts, dresses and high heels are considered items of clothing meant for women.
However, the younger generation is trying to break this societal norm. Their argument is that clothes are simply pieces of fabric, that by nature have no gender, therefore can be meant for anyone who wants to wear it. Meaning that male-presenting people can wear skirts and dresses, while female-presenting people can wear suits and such.
To show their support and to help the movement, certain celebrities have been showcasing this, the latest, Brad Pitt, but also the iconic pop singer, Harry Styles.
Brad Pitt and skirts
Brad Pitt attended the premiere of his latest film Bullet Train in Berlin. For his outfit, he decided to don a light pink shirt with a linen blazer and matching midi-style brown skirt, finishing the look off with black boots.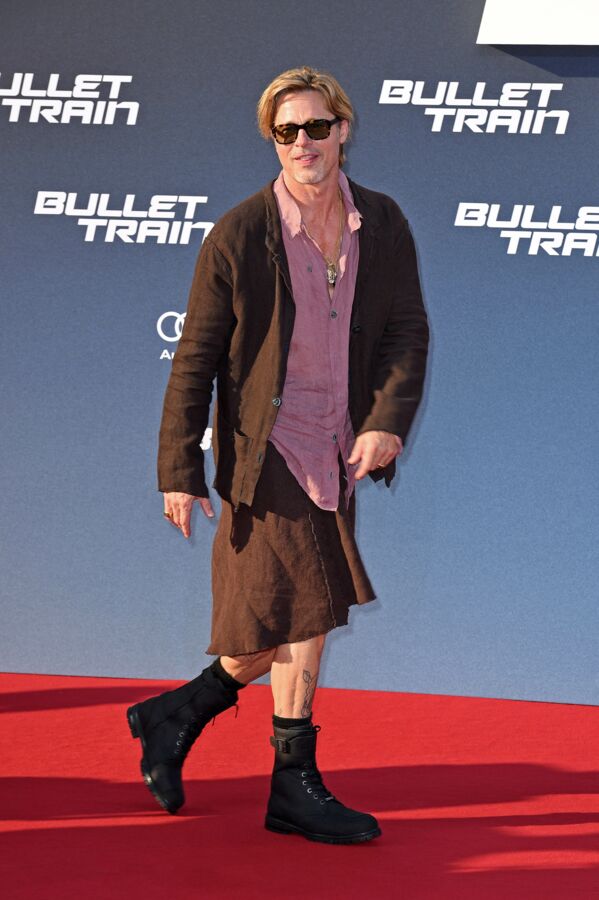 When asked about his choice of clothing, Pitt actually recommended all men try wearing skirts, Sky Newsreported:
I'm going to say, it's all about the breeze, the breeze is very nice… very, very nice.
Harry Styles' iconic Vogue cover
We all know many celebrity icons who have gone against society's gender norms (Elton John, Boy George…) But the new generation of celebrities are too. One of the most iconic of this generation is none other than former One Direction singer, Harry Styles.
Harry Styles appeared on the cover of Vogue back in December 2020, posing in a lace-trimmed Gucci dress.
When the issue came out, it definitely caused quite a stir. Just a year prior, Styles had said in an interview with The Face:
What's feminine and what's masculine, what men are wearing and what women are wearing — it's like there are no lines anymore.
Read more:
⋙ Chris Evans labels homophobes 'idiots' after backlash for Disney LGBTQ+ scene
⋙ Disney refuses to cut LGBTQ+ scene in Buzz Lightyear despite being banned in 14 countries
⋙ This year marks 50 years since the UK's first Pride, here's all you need to know