It's easy to think that Love Islanders all have perfect hair, bodies and skin. But the truth is they're human, just like us. This week, Love Island 2021 winner Millie Court has been opening up about her struggles with adult acne over the past two years in the hopes that she will help others suffering from the skin condition.
Millie Court's adult acne journey
Taking to her Instagram stories, Millie revealed that she suddenly developed adult acne a couple of years ago - shortly after going on the contraceptive implant. After seeing a private skincare specialist and following a skincare plan for over a year, her acne is now gone, and she is continuing to have treatment to remove the scarring.
When a fan asked to see a photo of Millie's acne before it was treated, the star agreed, posting several photos and videos from when her acne was at its most severe and writing:
This feels mad to post up for you all to see me when I was at my lowest, and feel the most insecure I've ever felt. But if I can help people who feel like I did then that means more to me than anything.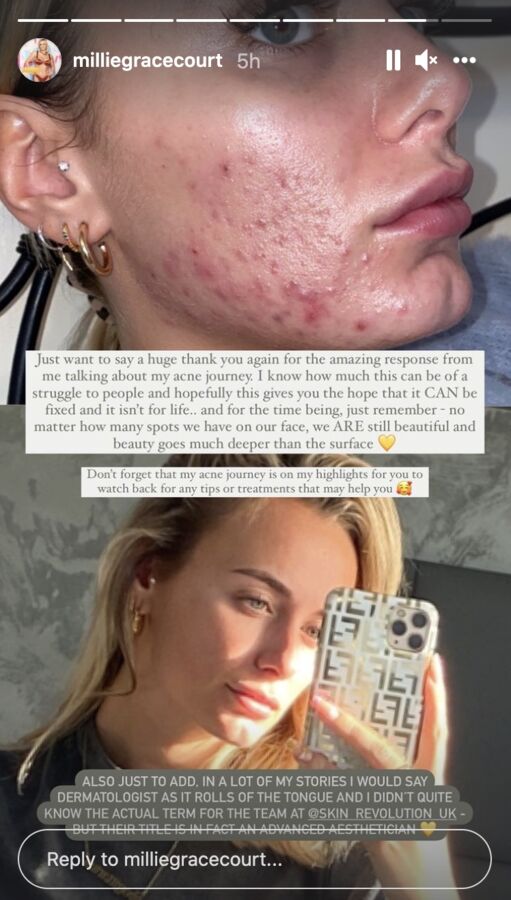 Being confident with acne
Finally, a fan asked Millie how she managed to be confident while dealing with acne, and Millie had an important message, saying:
I think that the main thing that helped me get through it was realising that beauty is only skin deep and it didn't change how my friends thought about me, didn't change how my family thought about me, they still love me no matter what... If people judge you on the way you look because you have spots when so many people in the world have spots then that's their problem.
Thank you, Millie, for being so open about dealing with adult acne!