While most people would absolutely refuse to even get someone else's name tattooed, Katie Price and Carl Woods have proved they are in it for the long haul by getting each other's faces inked on their arms.
Last month Katie Price took to the internet to tease her new matching tattoos with her boyfriend Carl Woods. But, fans got more than they bargained for when Price revealed that she and Woods had gotten 'impossible to cover' tattoos of each other's faces.
In their latest joint Youtube video, Katie and Carl filmed themselves at the tattoo parlour while glamour model and TV personality confessed she was getting a secret tattoo.
When they got home the pair sat down and revealed their new ink. Carl got Katie's face tattooed on his forearm and Price got Carl's face inked onto her lower arm. However, Katie decided that the permanent shrine wasn't complete and got the whole family done. She commented:
I decided I haven't finished it yet. I may as well have a whole sleeve done of the kids, me, and Carl. I've got a bracelet there with all the kids, bangles, and here Pricey Woods. And above I'm going to do Priceywood like the Hollywood sign. So I have had more pain... I haven't finished it yet, they've got to colour it all.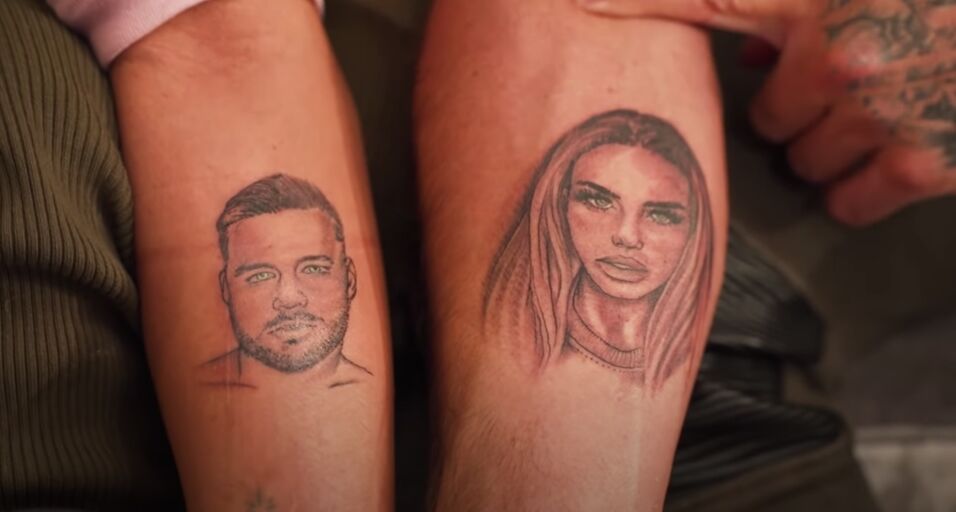 Katie and Carl then teased fans with the next step in their relationship, hinting that marriage might already be on the table for the couple who started dating in June. The My Crazy Life star asked Carl 'do you really want me to be K Woods?' To which he responded a resounding yes. Katie then signed off on the video stating:
It's been pain, torture, and love – it's all about love. But we're gonna finish off the day by having a bath and having a play.
In the previous video, Katiehad teased plans for the couple to get matching tattoos, she revealed to the audience:
Instead of a name, because we've all had names that you can cover. You covered your ex's name because you know when you had it done it's easy to cover, exactly why I did it… But the third time lucky one, you, it's no name.
Carl then chimed in saying 'we're getting impossible to cover statement tattoos.'
Katie recently suffered from a debilitating accident while on holiday in Turkey and will need to use a wheelchair for the next six months. Carl has stuck by Katie during her time of need. Hopefully, he's as permanent a fixture as Katie's new tattoo!