Rapper and fashion designer, Kanye West recently went on a now-deleted Twitter tirade in which he made some very concerning claims.
The frenzy of non-sensical Twitter posts has caused Kanye's family and fans to become rather concerned about his mental health.
During the rampage, Ye made claims that he has been trying to divorce his wife and mother of his children, Kim Kardashian. This does not come as a huge surprise following news that the couple had been isolating at opposite ends of their home after being 'at each other's throats'. Ye also compared his mother in law, Kris Jenner, to Kim Jung-Un and accused the duo of white supremacy. One tweet read:
I been trying to get divorced since Kim met with Meek at the Warldolf for 'prison reform.'
Many suspect Kanye's post is in relation to Kim's 2018 meeting with rapper Meek Mill at a criminal justice reform summit in Los Angeles. However, this encounter occurred at the Jeremy Hotel and it is unclear whether Kanye got the location confused or is referring to an unpublicised meeting. Kanye continued:
I got 200 more to go. This my lady tweet of the night...Kris Jong-Un. Lil Baby my favorite rapper, but won't do a song wit me.
In a following tweet, Ye refers back to Kim and Meek Mill by stating:
Meek is my man and was respectful That's my dog Kim was out of line I'm worth five billion dollars and more than that through Christ But y'all ain't listen to MJ and now y'all believe them?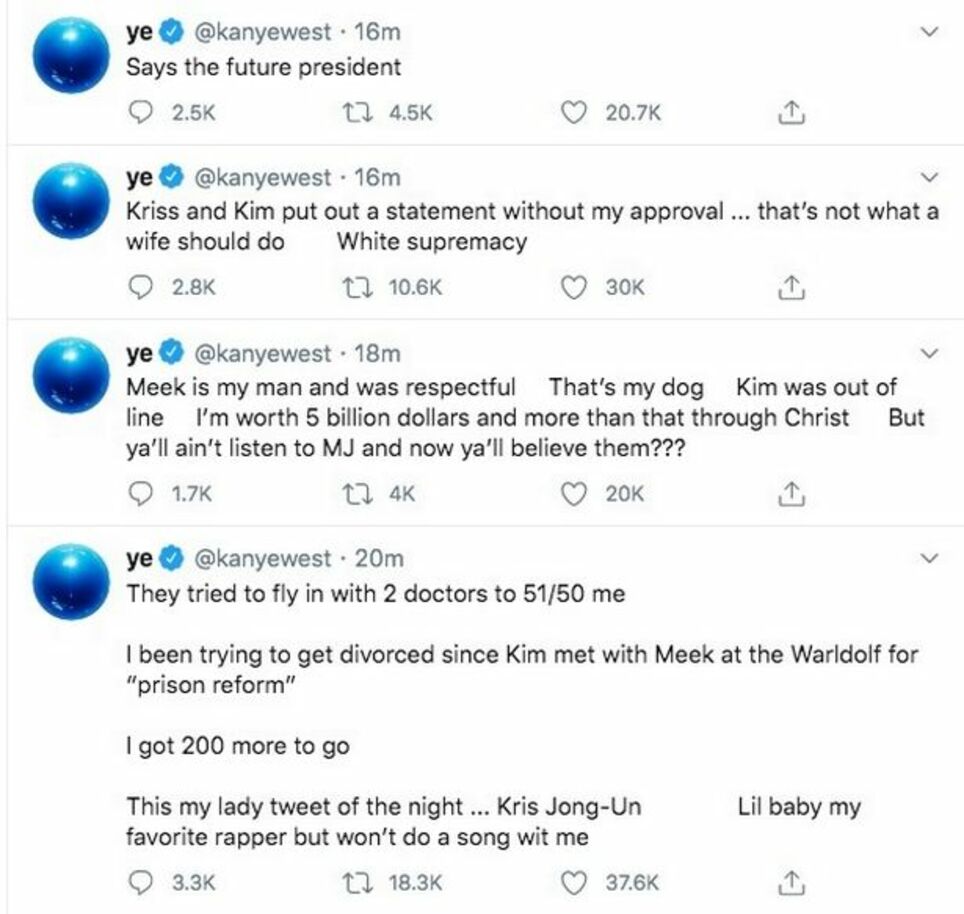 West also made claims that Kris and Kim tried to 'lock him up' referring to the California legal code 51/50 which involves a person who is considered to be mentally unstable can be held against their will. Yeezy stated:
Kim tried to bring a doctor to lock me up with a doctor. If I get locked up like Mandela... Ya'll will know why
Kanye also made a series of other tweets after his campaign rally that further accused Kim of trying to bring in doctors against his will:
Kim was trying to fly to Wyoming with a doctor to lock me up like on the movie Get Out because I cried about saving my daughters life yesterday.
He continued:
Everybody knows the movie get out is about me.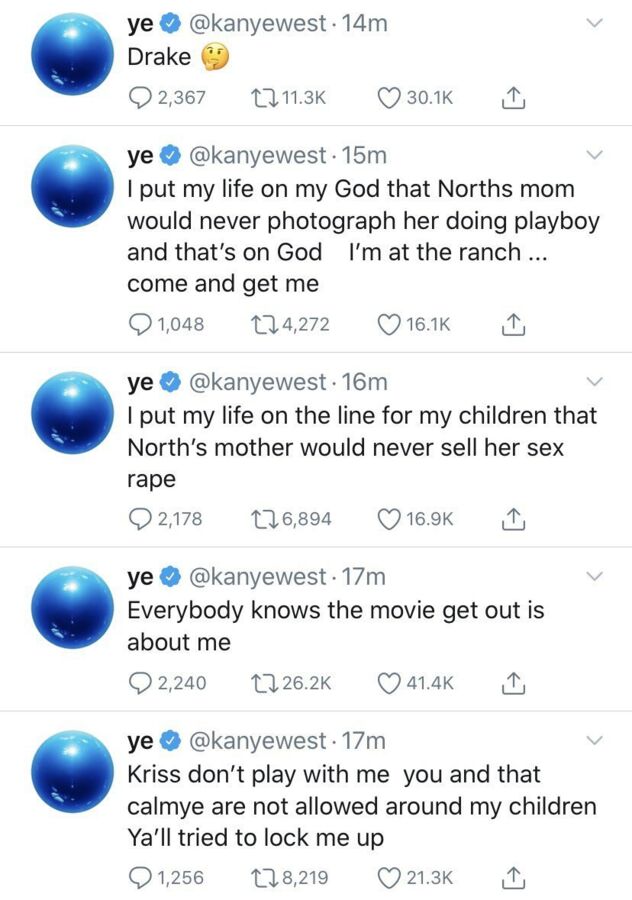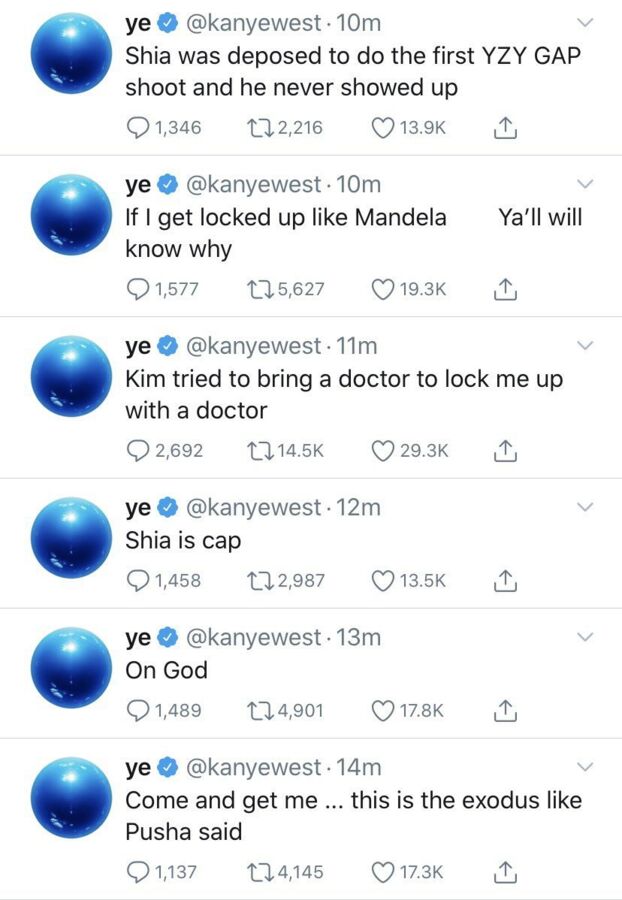 Kanye's confusing tweets have urged a trending hashtag on Twitter 'Pray for Ye' as fans are becoming increasingly concerned for the celebrities mental health.
Kanye is known to have bipolar and has struggled with the mental health condition in the past. Back in 2016, the aspiring politician was placed under the very same 51/50 involuntary psychiatric hold that he mentioned in his tweets as he was considered to be exhibiting troubling behaviour. West was held at UCLA Medical Center for over a week at the time.
Many fans have taken to Twitter under #PrayForYe to urge others to show support to the man as opposed to making fun of what many consider to be a manic episode:
Kim Kardashian has recently taken to Instagram to address the issue.