Black Friday On Amazon: 24% Off Deeplee's Glass Electric Kettle
For Black Friday Week, Amazon has put this exceptional electric kettle on offer: an appliance that is a necessity in any kitchen because of its multiple possible uses. The Deeplee model is now available for the low price of £30.59 instead of the usual £54.99.
In comparison to what some people think, electric kettles are not 'have beens'. You can use them in the conventional way to heat up water, but they are also essential for making pasta or rice and can help you save energy. And by choosing a glass option, you can avoid those toxic components that some other models have. This glass model, sold by Deeplee, is currently on sale on Amazon for just £30.59 instead of the usual £54.99.
This rather attractive-looking kettle is made of glass and stainless steel. It can hold up to 1.7 litres, making it ideal for families, and has buttons to control the LED screen on the handle which also shows the temperature. The temperature can be set to between 40 to 100 degrees Celsius and can be altered in increments of five degrees. Therefore, you can adjust the temperature easily depending on the type of drink you're making, a glass of milk, tea, soup…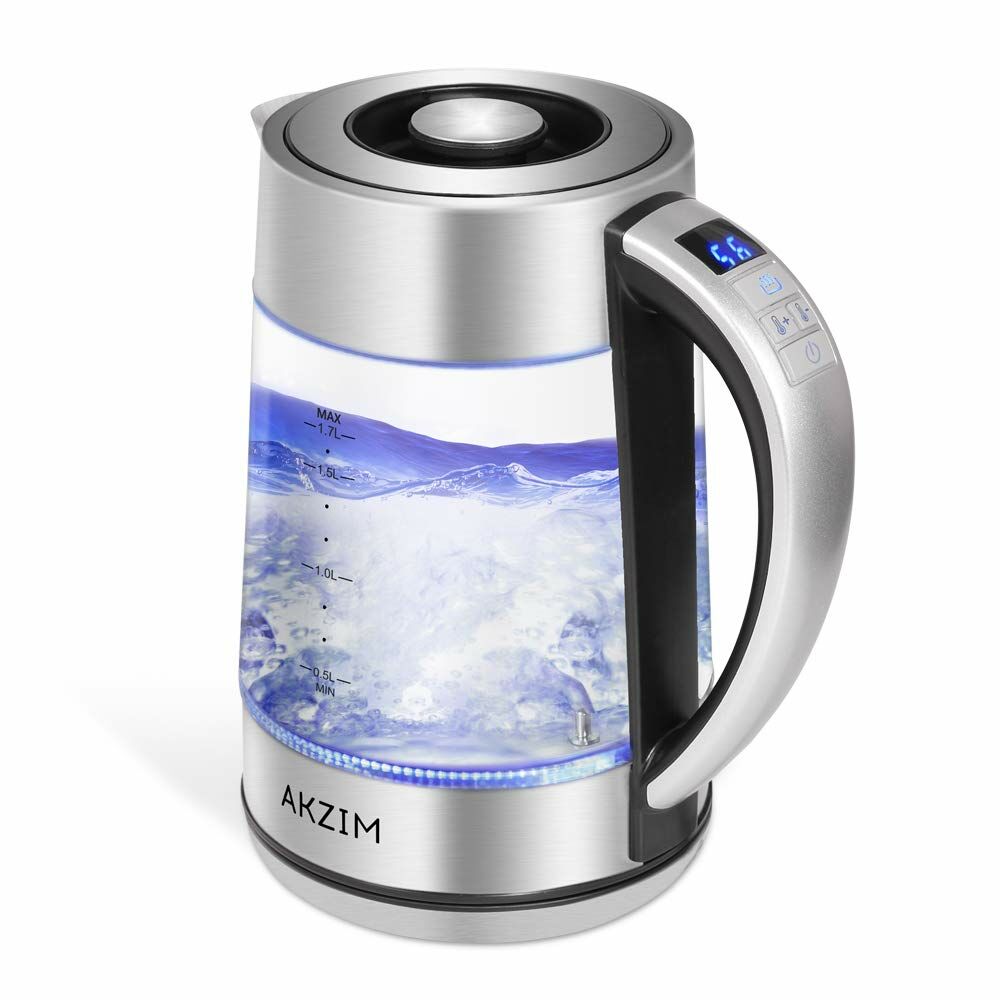 Deeplee has stated that thanks to its 2200-watt power, Akzim can boil 1.7 litres of water in five minutes and has a setting that keeps the water hot for up to an hour. If you don't do anything or reprogram the kettle during this hour, the kettle will then allow the water to cool back down.
As for safety, Deeplee has you covered. To start, the automatic temperature controller Strix automatically turns the appliance off once the water has boiled and if you accidentally leave the kettle running without any water inside, the 'auto-off-boil-dry protection' feature will turn the appliance off for you.
What's more, the middle of the lid is made from a material that is heat-resistant to prevent you from burning yourself when it's open. And finally, if any water ever gets on the kettle's heating base, it automatically stops what it is doing to avoid any problems. And cleaning it is no problem since you can easily and conveniently put your hand inside with a sponge.
Click here to take advantage of this deal!
As of 22nd November 2019, you will be able to make the most of those big discounts for Black Friday Week on Amazon. Take advantage of the offers they have on their many products, from household appliances to fashion, from technology to beauty products.
As an Amazon Associate Ohmymag earns from qualifying purchases.