The English beauty has shared pictures of her stay on Instagram so that we can all get a taste of that golden sun.
The two have been staying at Delaire Graff Estate, a beautiful vineyard worth £2.5k per night.
Whitmore can be seen enjoying the South African sun in a vibrant green dress on the property.
The estate also has some incredible views. Not unlike theLove Island Villa, this place looks out onto more beautiful greenery.
Whitmore and Stirling even went on a safari where they got the privilege to get up close to some of the most marvellous animals.
Whitmore even took the time to thank all her fans for allowing her to reach 1 million followers on Instagram.The Love Island host has promised to use her platform as a place to speak up on important issues and promote positivity. However, for now, she has shared some great posts and snaps of her adventure through South Africa.
Stirling hasn't posted much about his holiday but Whitmore is certainly filling in the gaps for us and even shared her rare experience of getting to see a pair of rhinoceros' both mother and baby.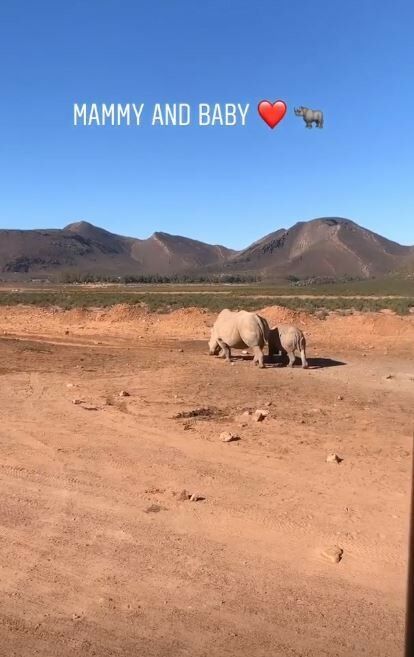 Iain Stirling and Whitmore have been dating since 2017. They met in 2016 at an ITV Party where they Instantly had a connection. Just one year later they decided to make it exclusive but have kept their relationship somewhat private. Laura Whitmore stated at the launch of PF Changs' in London:
Yeah he's my boyfriend. He's lovely. I've got him as my screensaver. I've known him for ages.
The two decided that keeping their relationship out of the public eye would be the best thing to give themselves a fair chance. However, they weren't fooling any of their friends. Laura even snuck off to the set of Love Island in Majorca in 2017:
We tried to keep it as quiet as possible at the beginning, I remember going to Majorca last year and not telling anyone, even though I know most of the crew. If anyone had seen me they'd be like, 'What the hell is Laura doing here?' I thought nobody knew, but it turned out everyone did. At the time I was like, 'We totally got away with that'.
The two make such a cute couple!