Taking to her Instagram story, 22-year-old Demi wrote:
Hi guys, I got my results today and unfortunately I have Thyroid cancer. The tumour has been removed but I'm now due to have more surgery to remove the rest of my Thyroid. I'm staying very positive and I'm a strong girl so I'll be fine, thank you for your love and support always ❤️ I'll bounce back stronger.
Demi Jones diagnosis
She also reiterated her advice to fans to always have any lumps checked out by a doctor. Demi was initially told that the lump on her neck was nothing to worry about. Thankfully, she challenged this and tests on the fluid from the lump showed that it was potentially cancerous. She had the golfball-sized tumour removed at the end of April.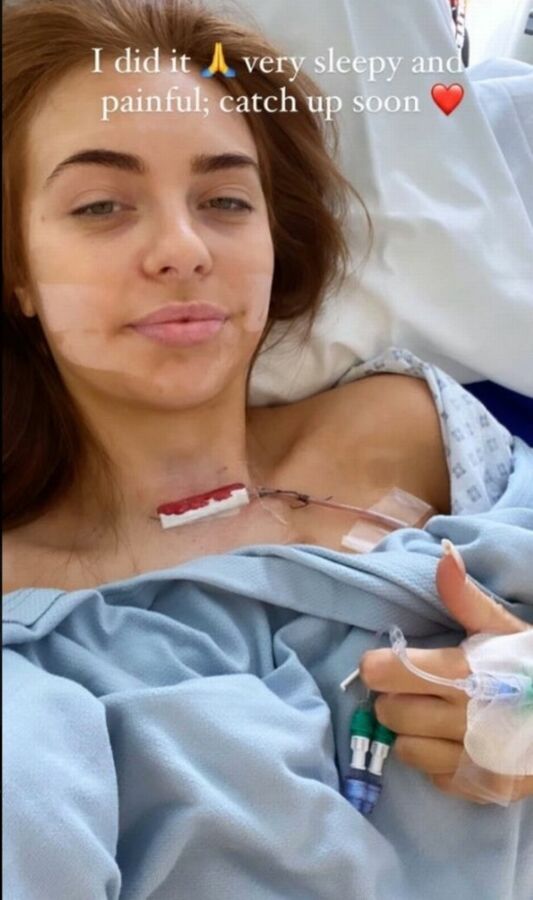 Demi received a wave of support from both fans and fellow celebs. Her Winter Love Island cast mate Shaughna Phillips shared a clip of herself and Demi to her Instagram feed, writing:
My sweet, gentle, beautiful girl, the same message I was giving you in the video applies today more than ever. Game face on my girl, you've got this. 💪🏽🤍
What is thyroid cancer?
The NHS website says:
Thyroid cancer is a rare type of cancer that affects the thyroid gland, a small gland at the base of the neck that produces hormones.' It's most common in over-60s and people in their 30s and affects women more than men. Symptoms include painless lumps or swellings in the neck, swollen glands in the neck, a hoarse voice that lasts several weeks, a persistent sore throat or difficulty swallowing.
There are four main types of thyroid cancer. Demi shared a photo of a pamphlet about follicular and papillary thyroid cancers in her Instagram story. These are the two most common types of thyroid cancer and are the most easily treatable, with over 9 in 10 people diagnosed living at least 5 years after diagnosis, many being fully cured.