When it comes to fashion, Rihanna is one of our favourites to look up to. From red carpet diva look to street fashion style, she's always risking new fashion OTT looks and she's always outstanding!
Last night at the BAFTA's after-party, Riri was spotted partying with her friend Oscar-Nominated Scarlett Johansson, who dazzled in a total black look. Rihanna never disappoints us, in fact, she always amazes us, a little more every time.

Diamonds' singer, who recently broke up with her boyfriend, Hassan Jameel looked phenomenal at the event in a very classy pair a satin flared pants that are from her own collection Fenty for a modest sum of £760. We found a low-cost version, in the stores of H&M ON SALES, for only £48.00. These tailored satin trousers are straight cut are high waisted, they bring the classic old fashion tailor look with their side pockets and welt back pocket.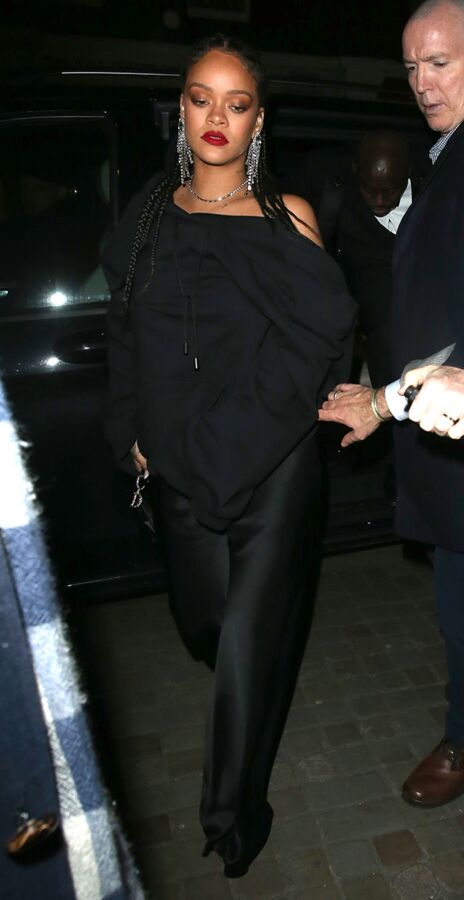 Rihanna (and this is why we love her so much) paired the pants with an oversised jersey hoodie also from her brand Fenty with open sleeves that featured a Bardot style neckline to showcase her decolletage, for only £460. You can purchase (almost) the same at H&M men. We advise you to take this hoodie and take the largest size you'll find, to bring this dramatic contrast that gives this look the effortlessly luxurious style like Riri.
We fell in love with the extra-long fit, which also means this look will fit any form and shape. Check out the video to learn more.