Katie Pricehas taken to Instagram to hit back at claims that she has dumped fiance Carl Woods. The 43-year-old ex glamour model hinted to reports made by The Sun, stating that she was once again single.
Katie Price dispels Carl Woods dumping rumours
Last week Price attended the National Television Awards with her son Harvey after the pair's documentary Harvey and Me was nominated for the authored documentary category. The NTAs was Katie's first public appearance since her alleged assault last month.
Unfortunately, Katie and Harvey lost out to Kate Garraway's documentary Finding Derek, which detailed husband Derek Draper's harrowing battle with coronavirus. But, despite losing the award, Katie still made headlines - albeit unpleasant ones.
A source who had attended the NTAs had reportedly told The Sun that they overheard Katie mentioning to her friends, 'I'm single, I've dumped him.' Sources also dished that the mum of five had flirted with multiple other men that night.
However, Katie explained on Instagram that rumours that she is single are 'not true' and has expressed wishes for people to 'leave me and Carl alone.'
It's such a shame having such a good night these awful story's about me coming out infact I never went out and said I've dumped Carl this is not true I was actually proud to be with my son Harvey I wish people would leave me a Carl alone.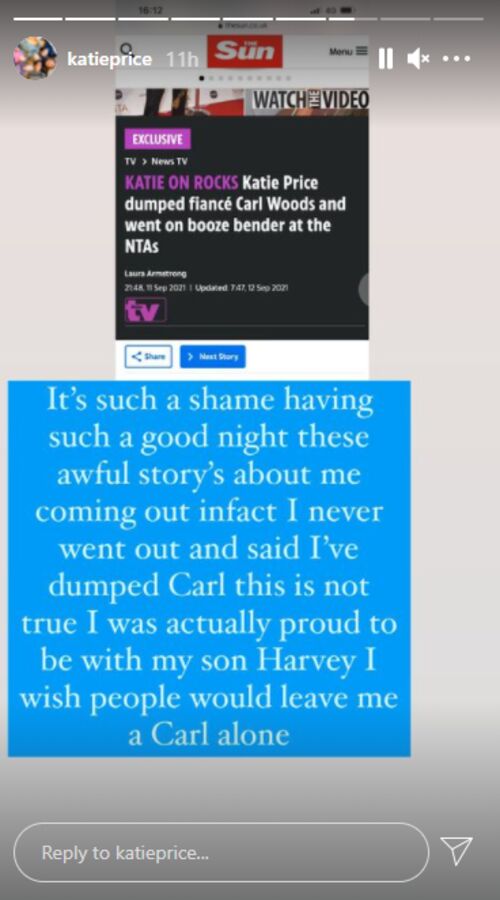 Carl woods defends himself after Katie Price's alleged assault
Last month Katie Price was allegedly assaulted in her home in Surrey in an unprovoked attack that left her with injuries to the face. Police arrived at the scene and confirmed that a 32-year-old suspect was arrested and on bail until September 20th.
Katie revealed that she was watching TV at the time, and the alleged attack was unprovoked. However, neighbours had reported to MailOnline that they had heard fighting coming from Price's home in the previous hours.
Two weeks after the alleged assault, Price's 32-year-old finance Carl Woods took to Instagram to defend himself against those who believed that he was responsible: 'I have remained quiet until now due to the investigation being carried out by the police however I have found it so difficult to keep quiet on social media due to speculation and shocking abuse that I have received.'
Anybody who thinks I hit Katie, you're completely delusional and have no idea of the reality of the situation. I have never and never would do anything to hurt Katie. The truth will be told.