Famous UK based American mum, Michelle or @jchelle36, has once again taken to TikTok to aggravate her British neighbours by trying to recreate a traditional meal of 'fish and chips'.
Of course, the mum took every wrong turn and completely butchered the simple dish, but this time Gordon Ramsay has reacted to the video with a blow by blow commentary.
The world-class chef uploaded the reaction video to his own TikTok account and you can quickly see the chef going from confused to absolutely disgusted all in the space of a minute.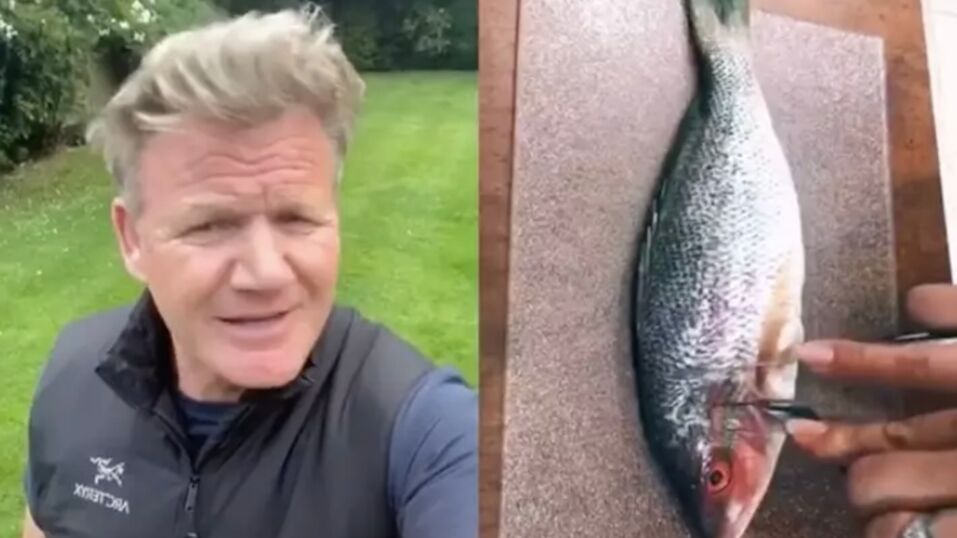 First, Michelle urges people to 'go to your local watering hole and find your fish!' the video cuts to a dead fish lying in the sand. Even we don't need Ramsay to know that's disgusting. The Hell's Kitchen star reacted:
Watering hole? Find your what?!
Then, Michelle takes the fish -which she calls a cod but its clearly not a cod- and preps it for cooking and her methods clearly bewildered Ramsay as she cut off the fish's head but not gut de-bone, or skin the fish.
Then, the TikTok star starts in on the batter consisting of a mass of flour dumped into a bowl, an insane amount of sugar, an egg and root beer. And this is where Ramsay really starts to lose his head as the chef can be heard shouting 'no!' louder and louder with the addition of each ingredient.
Michelle then starts to cover the fish in the thick batter which Gordon claims looks like 'puke' and is 'diaper thick' before placing it on a plate seasoned with salt and pepper.
Now for the grand finale, the mum, famous for shocking Brits with her rather unconventional cooking techniques places the battered fish in the microwave for 20 whole minutes. Gordon yelled at his phone:
In the microwave? Are you kidding me? You've lost the plot!
At the end of the video the American pulls out a plate of soggy fish and chips that are cut more to look like crisps than proper french fries, to which Gordon Ramsay could only respond:
You've never been to Britain.
The while the fish and chips would have left people barfing in their mouths, the video went down a treat with over 1 million views and 16,000 comments.
I think we can all agree that Michelle definitely belongs on Kitchen Nightmares.