Before exposure
The first stage that you shouldn't skip is exfoliation. Exfoliating your skin before going out in the sun can make your skin feel new again so that when exposed to the sun's rays, it's the healthiest and in the best condition it can be. The best thing to do is exfoliate your dry skin before taking a shower and use one with bits in (small or big, depending on your preference!). It will be a lot more effective.
Also, you should think about adding a few supplements to your diet. Three times a month before you go out, take a dietary supplement that is rich in beta-carotene (like ones from Oenobiol) which will activate the melanin in your skin. And although beta-carotene works like a charm, you can also get it through eating fruit. Use and abuse orange-coloured fruits and vegetables (mango, melon, apricots, peaches, oranges…). As well as preparing your skin for the sun, you will be full of good vitamins and be as vibrant and radiant as possible.
During exposure
We can't say this enough: you have to protect yourself from the sun's dangerous rays as much as you can when you're out and about. The sun's rays are actually a tan's worst enemy. They can make you go all red (sometimes quite badly), can make blemishes and marks appear on your skin, but the most annoying thing is that after you've been burnt, you're inevitably going to peel. And then your flawless tan will be ruined, and you'll end up with lizard skin that will start to shed! Protect your skin as much as you can with products appropriate for your complexion and skin type (matt, clear, very clear…) and above all, apply and reapply sun cream every two hours, as well as after every time you go for a swim.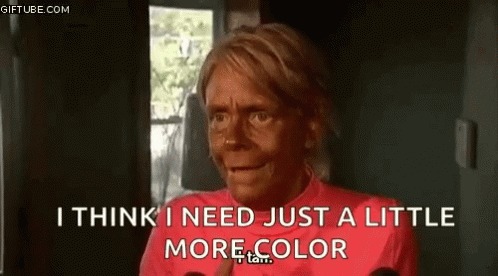 At the end of the day, don't forget to apply after sun. Even if you're tired and you don't want to do anything after you've had a shower or before you go to sleep, it's very important that you apply some kind of after-sun cream or soothing gel to your body. The best of the best have an oily texture that leave your skin feeling soft and supple and will prevent stretch marks from appearing. Maybe go for one which contains shea body butter and vitamin E which will deeply restore your skin.
When you come back off holiday
So that you have a nice tan even after you get back, you need to use specific skin treatments. To keep your skin clean, use an oil in the shower instead of a shower gel. These will allow your skin to become nourished before you then apply a hydration cream.
After you shower, you will need to keep applying your after-sun cream or gel both on a morning and on a night. What you absolutely must do is use a treatment which is specifically designed to prolong your tan. Rich in components that stimulate melanocytes, this type of product will really help keep your golden tan glowing for as long as possible.
For the first few days after you get back and then once a week to maintain it, use a soft exfoliator. It will keep your tan looking bright and radiant while also getting rid of the dead skin cells that have accumulated during your holidays.
Product selection:
- Lancaster Tan Preparer Body Scrub
- Nuxe Prodigieux Shower Oil
- Clarins Sun Cream
- Oenobiol Tan Enhancer Intensive
- Clarins Refreshing After Sun Gel
By Célia Jude