An Accident and Emergency (A&E) nurse has been surprised with a marriage proposal while on shift. The two had been together for 19 years.
Mr. Unromantic
Lena Plawecki was on duty at the Chesterfield Royal Hospital when her partner, Tony Clarke, appeared dressed as a Navy officer with a bouquet of flowers.
They had already planned their wedding for later this month but had done so without a proposal. Describing her partner as an unromantic person who once gave her a hammer on Valentine's Day, said it was the most romantic thing he had ever done.
The 56-year-old nurse from Renishaw, Chesterfield, said they had talked about marriage last year.
As an A & E nurse people were dying all around me and Covid got me thinking about things I perhaps wouldn't have thought about before. I'd had a particularly bad week at work and I said to Tony we need to get a will should something happen to one of us.
According to Plawecki, the idea to get married was a practical and convenient one, and so the proposal came as a pleasant surprise to her.
And when talking through it they kept saying 'it would be easier if you were married' so we thought let's book a wedding then and that was it. It wasn't very romantic, there was no proposal. I have never mentioned wanting a proposal before so this was a shock.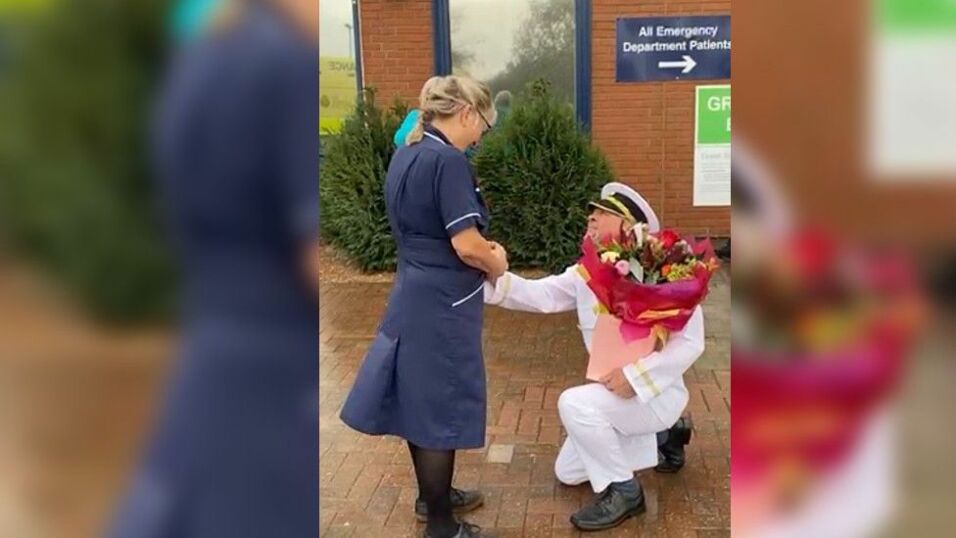 Hammered on Valentine's Day
On Monday, Mr Clarke, 54, dressed as the character played by Richard Gere from one of her favourite films - An Officer and a Gentleman.
He's not very romantic at all. So this was totally surprising. For Valentines's Day and even in the early days I would get presents like a hammer or spanner because he said they were more useful than a bunch of flowers.
The couple, who have been married before and have two kids each, will get married at Bakewell Register Office on 13 November.