The bride and groom were in the middle of the best day of their lives in the middle of their wedding service when they were rudely interrupted by an unwanted guest yelling out that she was pregnant with the groom's baby.
The beautiful service was being recorded by one of the guests hoping to immortalise the wedding when she caught something nobody could have expected.
In the video, posted to TikTok, one woman can be heard screaming in the background of the Detroit wedding claiming that she was pregnant with the groom's baby.
The short clip shows the outdoor wedding service being conducted under a gazebo with the wedding party while the officiant reads out the couple's vows.
Then, out of nowhere heads turn as a wedding crasher bursts onto the scene. Unfortunately, the hero behind the camera didn't catch the face of the intruder but you can clearly hear her yelling in the background. You can hear the wedding crasher yelling:
Anthony! You pretend you didn't know me? didn't get your psych med today?
Another guest can be heard gasping 'oh no, oh my God!' as the unwanted intruder goes on at the top of her lungs:
Anthony I know you hear me! You're acting like you don't know me...I got your baby here!
Then, the scene gets even better as one of the wedding party members, presumably, the bride's daughter bursts out of the crowd and hurls a bouquet of flowers at the other woman shouting:
You better get out of my mama's wedding. What is wrong with you? What is wrong with you?
Another wedding guest tries their best to hold the angry daughter back but her efforts were all in vain as she forced her way through the crowd to confront the supposed mistress.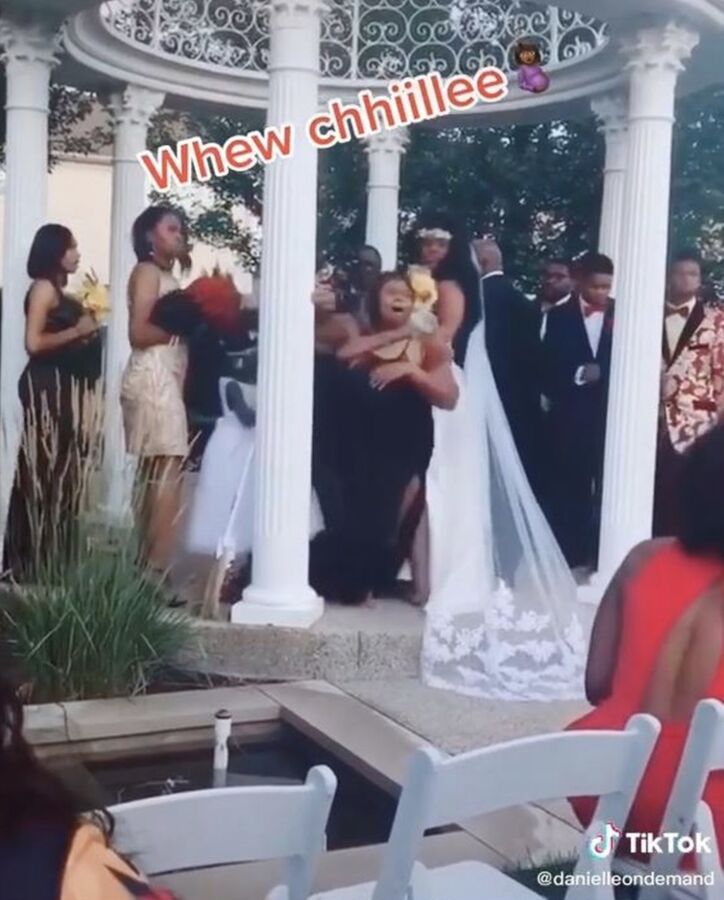 Unfortunately, the video cuts there and viewers don't get to witness what happens next but the video already has over 1.8 million views on TikTok. One person questioned:
Why didn't they turn around?? Anthony and his wife know about this.
Another chimed in praising the daughter and the officiant:
Daughter was not having it! Good job to the pastor for keeping it going.