Most people have their dealbreakers when it comes to relationships. Ranging from reasonable to downright weird, people tend to stick to their guns when it comes to those principles.
A woman has claimed that she got 'dumped' after she told a man she met on the sating app, Hinge that she had been vaccinated against COVID.
It Was Fun While It Lasted
Olivia Krueger shared on TikTok how she was bombarded with vile and expletive-filled messages from the man after she declared her vaccine status. This had her thinking how low the bar for dating has got.
Sharing screenshots of the exchange with her TikTok followers, Olivia said the attack started when the man she had matched with on Hinge asked her if she had been vaccinated. To which she responded:
I am. Is that a problem?
That ticked him off, and he went into a sweary fit on the dating app, because he apparently liked her a lot. He wrote:
I want kids one day and I don't want them to be mutants. Definitely not interested in anyone that caved to the bulls*** agenda. Good luck having mutant children.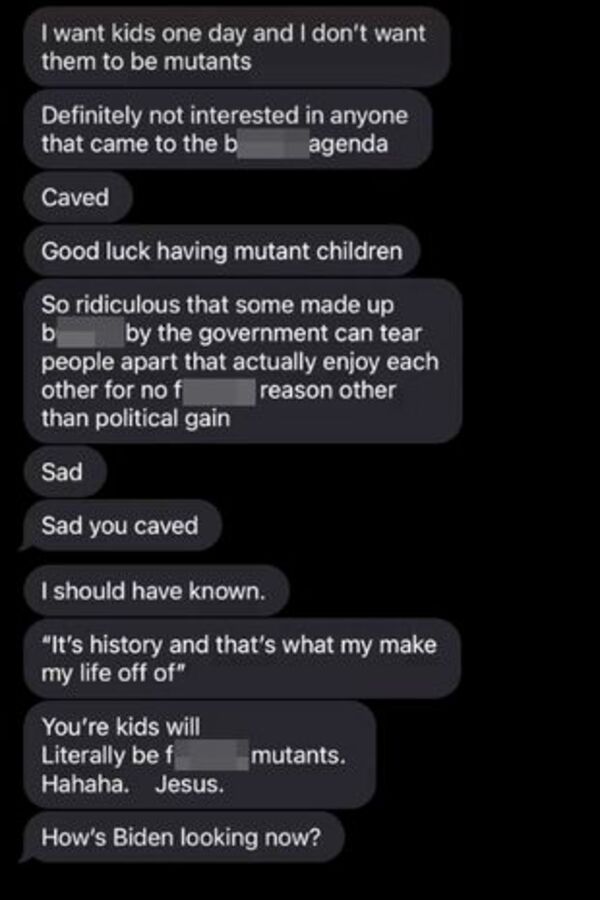 Sad You Caved
All this would have been avoided had he read her profile, which clearly stated her vaccine status. Turns out, the genius anti-mutant advocate could not be bothered with that. He said:
I don't look at any of that.
In a screenshot of the messages he sent his match-gone-wrong, the man then went ahead to attack the government and Joe Biden for destroying what he had (almost) with Olivia.
So ridiculous that some made up bulls*** by the government can tear people apart that actually enjoy each other for no f****** reason other than political gain. Sad you caved. I should have known. 'It's history and that's what my make my life off of'. You're (sic) kids will Literally be f****** mutants. Hahaha. Jesus. How's Biden looking now?