You have a wedding planned in the next few weeks, and you have no idea what outfit you will be able to wear? Don't panic, we have found the perfect piece.
The perfect dress for a spring or summer wedding
The season of ceremonies has begun! With it begins the quest for the perfect outfit. Both elegant and sophisticated, the dress worn at a wedding must also be understated. It would be unfortunate to overshadow the bride on her D-Day. However, there is no need to rule out colourful dresses or dresses with original cutouts. A chic outfit, yes, but nothing too boring!
For this, we have found the ideal fit for you.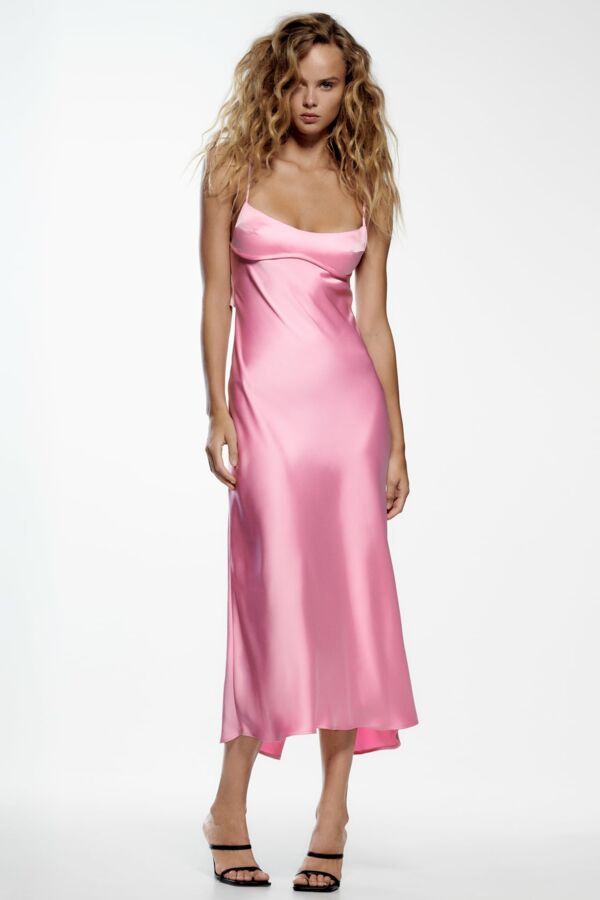 This babydoll-style satin mid-length dress with a straight neckline and thin adjustable straps is an outfit that can be appropriate both for a spring or summer event. You just have to think about bringing a little jacket to put on your shoulders, if the weather in April or May turns out to be capricious.
Fluid and vaporous, satin dresses are perfectly suited to this style of event. In addition to being very soft, this material is also very comfortable, a real advantage during a wedding celebration which often leads us to dance until the end of the night !
⋙ Zara: Get Kate Middleton's hot pink jumper for under £20
⋙ Zara's bridal collection is a dream come true
The colour of spring
If the cut of this dress stands out, the same goes for its colour.
In a pretty pink hue, it is perfectly in line with the trends of the moment, since the bubble gum shade has been hoisted to the top of the ranking of the most fashionable colours of the season. Whether you have pale, golden or even dark skin, this soft rose suits all skin tones.
So what are you waiting for, go grab the £45.99 dress today.
This article is translated from Oh!MyMag FR.