Millie and Liam met on Love Island last year and were crowned the winners after being voted as a fan favourite. They won the prize money and moved into an Essex home together after the show. However, MailOnline reveals that the two have broken up after a year-long romance.
We remain close friends
25-year-old Millie Court announced the breakup on her Instagram story and acknowledged that it had been a 'tough decision' to make. A source close to them confirmed:
It's been really hard for both Millie and Liam to come to this decision.
There has been no drama or wrongdoing and they both still fully support each other and will remain close friends.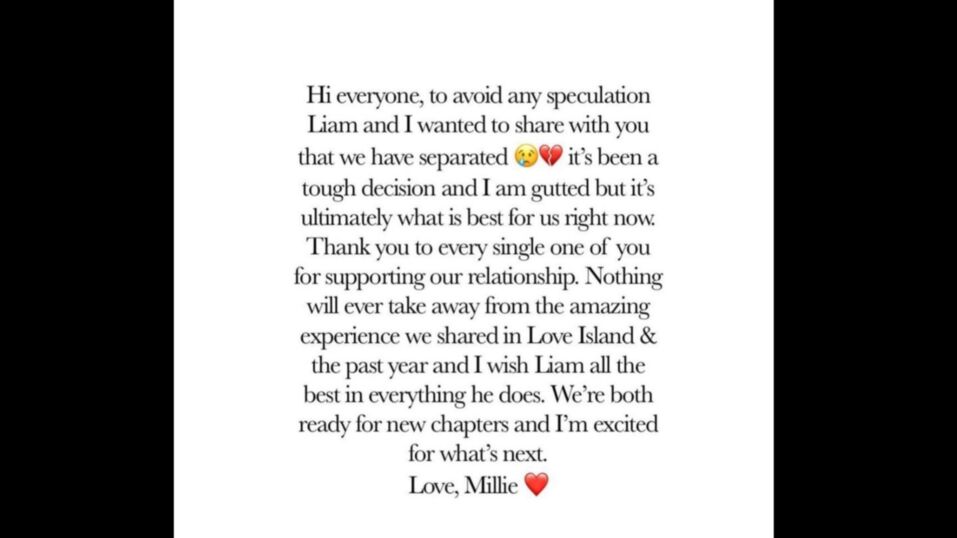 To avoid any drama Millie penned on her Instagram story:
Hi everyone, to avoid any speculation Liam and I wanted to share with you that we have separated.
It's been a tough decision and I am gutted but it's ultimately what is best for us right now. Thank you to every single one of you for supporting our relationship.
Liam's note
Following her ex-girlfriend's lead, Liam posted a similar story on his Instagram account informing his 1m followers that they have split. His statement echoed the same note of being 'honestly so gutted' but grateful for everything emotion as Millie's did. He Wrote:
Honestly so gutted. But thank you to every single one of you for supporting our relationship.
Nothing will ever take away from the amazing experience we shared in Love Island and the past year we've been so lucky to both come into each other's lives.
We will both continue to be friends and I will remain as Millie's biggest supporter in all that she does and I know she will always do amazing.
We're both ready for new chapters and I'm excited for what's next. Again, I just want to thank you all for supporting us on what's been an incredible journey.
The 22-year-old Welsh reality TV star and Millie had been in a long-distance relationship ever since leaving the villa until Liam left Wales and moved to Millie's hometown. Reportedly, the two had grown apart in recent months as they focused on their individual work and opportunities.
Read More
⋙ Millie Court opens up about 'nasty' comments that left her hurt
⋙ Millie Court hints at possible soon-to-come wedding
⋙ Millie Court and Liam Reardon: Are the couple expecting their first child?