Katie Price has recently left some cryptic clues online that she may be pregnant with her sixth child.
Price has recently taken to Instagram to hint that she may be expecting her sixth baby after posting a bottle of folic acid. The supplement is commonly used amongst pregnant women in order to promote a healthy foetus. The bottle was accompanied by a vague caption, urging her boyfriend to 'get ready':
Yep it's that time, get ready @carljwoods I love you boo.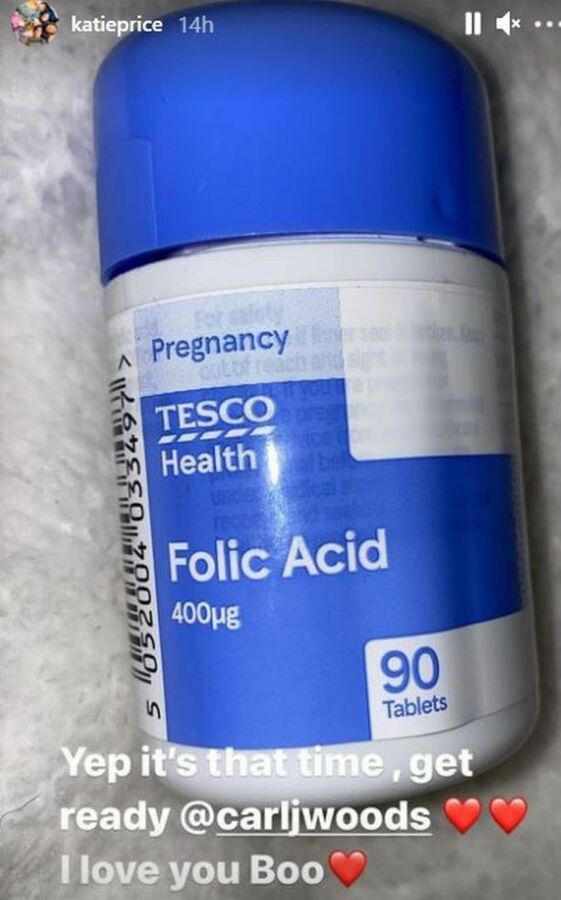 Ready for the 'next step'
The former glamour model has been dating boyfriend Carl Woods since last summer and already the two have not only gotten matching tattoos of each other's faces, but they are now trying for a baby. The couple confirmed that they were ready for the next step in their relationship in an interview with The Sun last month:
It would be amazing to enter the new year with a baby on the way and a ring on my finger.
In the interview, the reality TV star claimed that she and her Love Island boyfriend would soon be able to confirm any good news as her 'monthly' was due on the 29th of December:
We've been trying — I'll find out if I'm pregnant on the 29th because that's when my period is due.
Sadly for Price, there was no ring under the tree this Christmas but boo Carl has admitted he does have it and he has planned out the very minute he will propose to her. Katie exclaimed that it has to be 'really big and sparkly':
He'd warned me it wasn't going to happen and he says it won't happen in the next few weeks either — but it will be in 2021 and I can't wait. Carl is really close to Junior and he knows he has to ask him for his permission to marry me. I think he's already done it.
So looks like marriage and children are in the cards for Katie this year. The TV persona is already a mother to five children. Harvey is the oldest of the bunch. The 18-year-old was Katie's only child with former Manchester United player Dwight Yorke.
Junior, 15, and Princess, 13, are Katie's children from her first marriage to Peter Andre. Katie also had her youngest children Jett, seven, and Bunny, six, during her marriage to third husband Kieran Hayler.
A hard year for Katie
After a rather tumultuous year, it is understandable that Katie would like to move forward with her life with a new husband and baby. Last year was full of adventures for Price and not all of them good.
Not only did the star have to rush Harvey - who suffers from Prader-Willi Syndrome and partial blindness - to the hospital with severe breathing difficulties, but the star also broke both of her feet and ankles while on holiday in Turkey.
However, 2020 was not all bad as Katie had also dropped the party life entirely. In fact, she just had her first sober Christmas, a huge step up from the year prior where the former model was at an all-time low and had turned to drugs to help her cope with failed relationships, bankruptcy and her mother's ill health. Katie explained:
I was very ill, very vulnerable — not like I am now — and I had to get help and I stuck to it.
The star has praised both Carl and her time at The Priory for helping her through:
I've grown, I'm stronger and I don't need to run away or numb my ­emotions any more. It's been a bad year for a lot of people, but for me it's been a good year because I've met Carl and I sorted myself out.
Let's hope 2020 is full of nothing but good news for Katie!