The 27-year-old star rose bright and early to answer fans questions about their most pressing concerns, and unsurprisingly, most of the questions are about relationships.
Jacqueline Jossa gave her fans a good talking to and dished out some real advice to those who confided in her and its advice we should all take on board.
The first person asked for advice as a mum on how to stop feeling guilty for wanting time away from her children. Jacqueline replied:
This is a really good question and something that we all really suffer from – mum guilt. One thing I will say is that you have to be your best self to be the best mother you can be.
Another fan asked a rather harrowing relationship question but an important one none the less.
I really want to leave my partner but I have no money and we have two kids.
Suffering from abuse or being too vulnerable in a relationship is something that often catches many people off-guard and it's an even harder situation when there are children involved.
Get out your notepads because everyone needs to remember Jacqueline's advice:
This one makes me totally, totally sad. I think you have to find a way to make it happen if you're not happy. Whether it's moving in with your parents or moving in with friends. Make sure that you talk to people that love you and that are going to support you. I'm sure you have many people around you that love you. So just open up and talk to people.
She continued:
It won't be the end of your life. You'll be able to smile again and move on. If you're not happy and you're in a really unhappy relationship and you want to walk away you should walk away and start something for you. I always say it's really great no matter what – whether you're really happy in your relationship or not – to have something for you and money for you so you never feel stuck.
A third fan asked for some relationship advice that has crossed all of our minds at least once- how to catch a cheater but with a little added twist. They wanted to know how to catch a cheater if they themselves have also cheated... this one's a thought but Jossa handled it with absolute grace:
You could do some spying I suppose or you could just cut to the chase and ask him. But it's not "I did this so you deserve that" and tit for tat. Just because you made a mistake it doesn't mean he's now allowed to.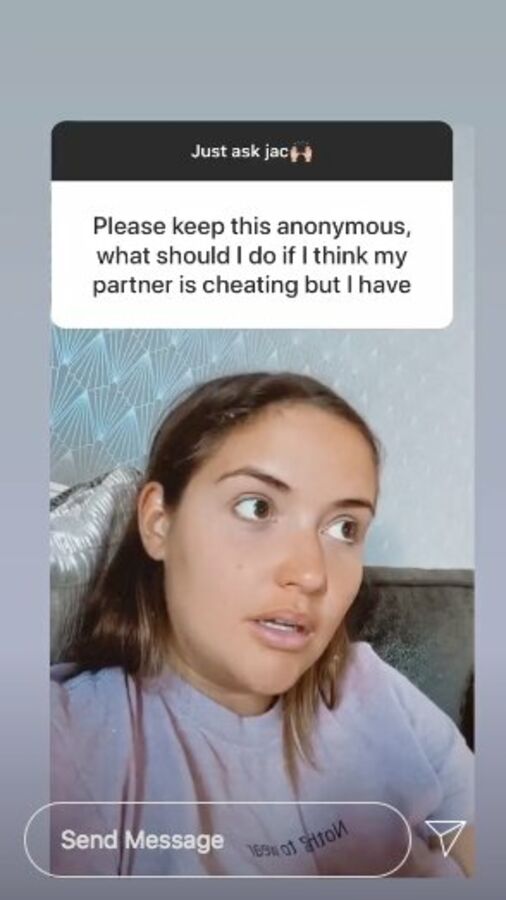 The former EastEnders has a point, there's really no sure way of catching a cheater unless they confess or you catch them in the act. Often, the best way to find out is just to ask... or snoop on their phones.
Jacqueline has had to overcome some harsh obstacles herself as her relationship with her husband, Dan Osbourne has in the past been riddled with rumours of cheating.
During lockdown the I'm A Celebrity… Get Me Out Of Herewinner went and isolated at her parents' place in order to give her relationship some much needed space. A source told the MailOnline back in May:
Dan begged her to come home and she's admitted she missed him. They had been fighting non-stop but together they make a good team. It won't be easy but Jacqueline's sure they can make it work. She wants to take it slowly.
Jossa addressed the situation herself a little later on Instagram with a healthy attitude, stating:
I need some time. There is no split. No divorce. We are working together not against each other.