It seems that it was mere months ago that Zayn Malik and Gigi Hadid announced they were expecting a baby. Just this morning the couple took to social media to announce that the wait is finally over and they have welcomed a baby girl.
Malik, 27, took to Instagram to announce the great news in an all too cute post. Zayn posted a black and white picture with his daughter's tiny hands clutched around his finger and wrote a beautiful message alongside it stating:
Our baby girl is here, healthy and beautiful🙏🏽❤️ to try put into words how i am feeling right now would be an impossible task. The love I feel for this tiny human is beyond my understanding. Grateful to know her, proud to call her mine, and thankful for the life we will have together x
Not long after Zayn's announcement Gigi followed up with her own post also sporting a black and white photo with their newborn baby's tiny hand peeking out of the blankets. Hadid wrote:
Our girl joined us earth-side this weekend and she's already changed our world. So in love🥺💕
Both posts gained a huge amount of support from friends, family and fans, Gigi's father, Mohammed Hadid, even wrote his own heartwarming comment:
Congrats .. Jido's heart belongs to you.. baby girl.
Mohammed, now a grandfather, got the whole world stirring just last week when he posted a poem he wrote for his soon expected granddaughter triggering fans to speculate whether or not Gigi and Zayn had already had their baby.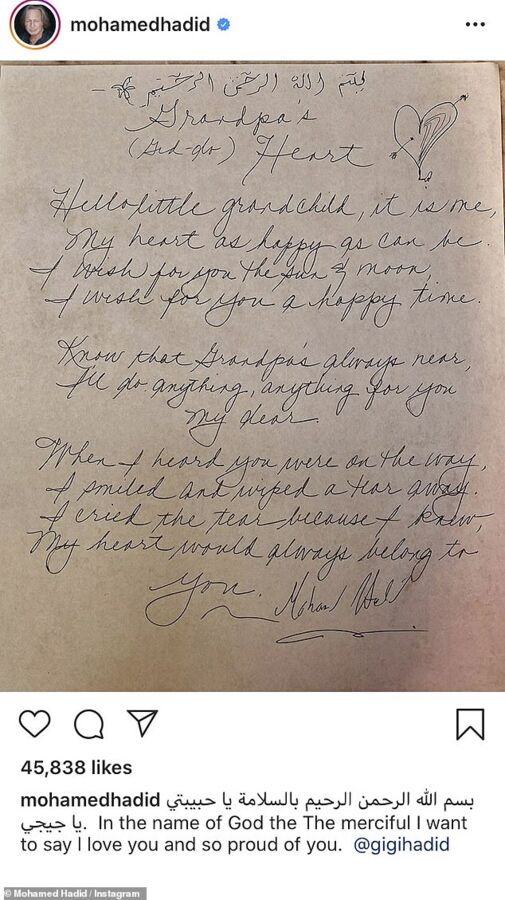 However, fans were left disappointed when Hadid responded 'no, not yet' when asked if Gigi had her baby. Well, the wait is finally over for the gorgeous couple and no doubt Gigi and Zayn will be great parents.
Any ideas to what this adorable baby's name will be?