The indie coming-of-age film CODA also won Outstanding Performance by a Cast (or Ensemble) in a Motion Picture. It is up for three awards at next month's Oscars, including best film.
After premiering at the 2021SundanceFilmFestival, the film was bought by Apple TV+ for a record $25 million (£18 million).
CODA—the acronym for child of deaf adult—is based on the 2014 French film La Famille Bélier. It tells the story of 17-year-old Ruby, the only hearing person in the Rossi family. Ruby is played by Emilia Jones, the British star of Netflix's Locke & Key and daughter of singer and presenter Aled Jones, while Kotsur plays her deaf parent.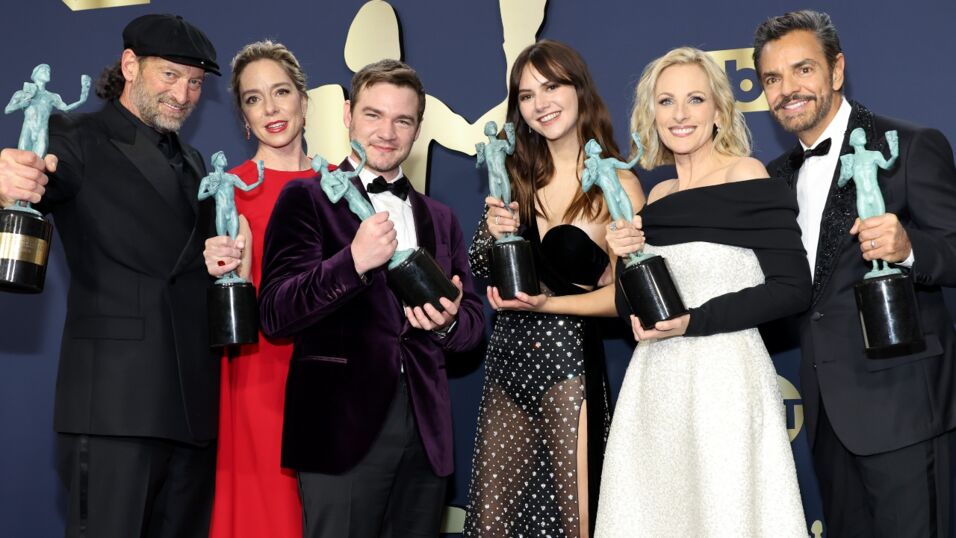 The importance of representation
The difference is, unlike the original French film, the cast who play the other Rossi family members in CODA are all deaf. Director Siân Heder insisted on casting deaf actors, saying:
Deafness is not a costume you can put on.
Both Heder and Jones learned American Sign Language for the film. Jones said:
It's such a beautiful language—although I've learned American Sign Language, I was going to say now I need to learn British Sign Language too.
Support for Ukraine
At Sunday's ceremony, some stars sent messages of support for Ukraine. Actress Jessica Chastain said during her speech that 'my heart is with [those] fighting for their safety and their freedom'.
Succession actor Brian Cox highlighted the Ukrainian President's backgroundin entertainment during his speech, saying:
He [Volodymyr Zelensky] was a wonderful comic performer, and we should respect that for him, and to come to the presidency was amazing. But the thing that's really distressed me is what's happening in Russia to my fellow actors and actresses and performers and writers and critics. They are told under pain of high treason that they cannot say a word about Ukraine. And I think that is pretty awful.
Read more:
⋙ Volodymyr Zelenskyy: Who is Ukraine's comedian turned president?
⋙ Volodymyr Zelenskyy: An unusual rumour about the Ukrainian President has been confirmed