While filming the first episode of the new series, Emily Atack uploaded images of herself drinking with Celebrity Juice co-stars Keith Lemon and Laura Whitmore.
Celebration done right
Emily twerked with Laura in the green room, demonstrating that she was in the mood for a party. As filming for the new season of Celebrity Juice began, Emily Atack gave viewers a behind-the-scenes look. The comedian uploaded photos of herself drinking with co-stars Laura Whitmore and Keith Lemon. Emily captioned a photo of herself and Laura clutching wine glasses:
Show one DONE. What a night. Covered in dog food.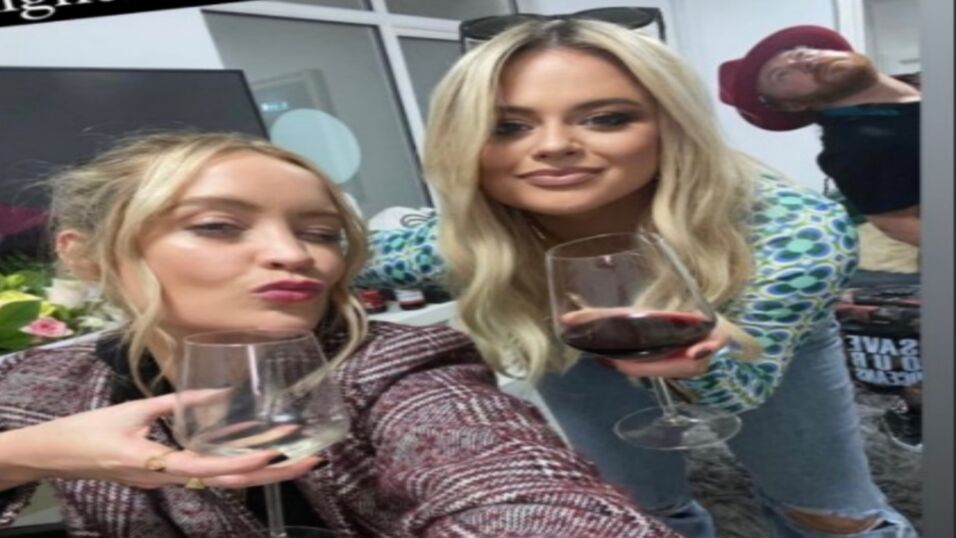 Keith can be seen photobombing the girls as they posed for the picture in the background. Emily had earlier in the day shared a photo of her performance attire with her 1.8 million Instagram followers. She stated that in the first episode, she was smeared in dog food. The group appeared to be in a party spirit after downing wine in the green room, as they videotaped themselves dancing around backstage.
Keith was notably hesitant with his dance techniques, preferring more of a side step, while Emily and Laura showed off their twerking prowess.
Picture perfect
She wore a tie-dye set in blue and orange, which she teamed with brown leather knee-high boots. The 32-year-old captioned the photo:
WE'RE BACK FOR JUICY FUN!!!! @celebjuiceofficial.
Fans were eager to comment on her nighttime outfit, with the majority using flame emojis to express their displeasure. A follower commented:
Pamela Anderson vibes.
Another said:
It's illegal to be that fit.
While the majority of the comments on Emily's articles are positive, she recently spoke out about the online harassment she receives from males who enter her DMs. According to what she told The Mirror, she receives hundreds of sexually abusive messages every day. This includes images of men's genitals, but because it occurs on social media, nothing is done about it.