Ella's protective behaviour
According to KSL news, hunting labrador retriever Ella started acting strange while her family was enjoying the fresh air in their yard in Cedar Hills, Utah. The pet would normally join the family fun, but this time she was 'on point up sitting on the rock wall' instead.
The family didn't think much about it at first. As one of the children tried to get Ella down from the rock wall, she nudged them away. The dog'kept looking at the children and then quickly looking back', and the family decided to retreat inside.
Ella's owner Crystal Michaelis said:
She was just being very cautious, and my daughter thought it was very concerning.
'There was blood all over the door'
The family didn't know that once they were safe, their labrador retriever confronted a mountain lion, also known as a cougar.
Cougars, large cats with strong muscular limbs, can reach 2,4 metres in length and are able to jump a whopping 12 metres from a standstill, with a vertical leap of 2,4 metres. Cougar attacks can be deadly, especially for children.
When the family heard their dog by the door minutes later, they weren't prepared for what they were about to see. Their pet was covered in blood and had injuries all over her body. Even badly injured, incredible Ella was still on guard and was trying to stop her family from going outside.
Labrador retriever's owner said:
We found Ella bloodied. There was blood all over the door and all over the patio.
As the family took Ella in and shut the door, the brave dog collapsed.
'She's our hero'
Ella suffered 'severe cuts on her head and nose, along with her tongue, legs, and neck', a concussion and 'more than 30 bites on her body' from her fight with the wild animal. Ella's vet said that all of her injuries were on the front of her body, which meant that the fearless dog 'never let down and stayed in her protective stance', defending the family.
Proud pet's owner said in an interview with Fox 13 News:
She is our hero. I believe wholeheartedly that she was protecting the children because it was within seconds that they came in, and this all happened.
Stay alert at all times
People reports that the local Police Department confirmed Ella's attack and gave a warning to nearby citizens.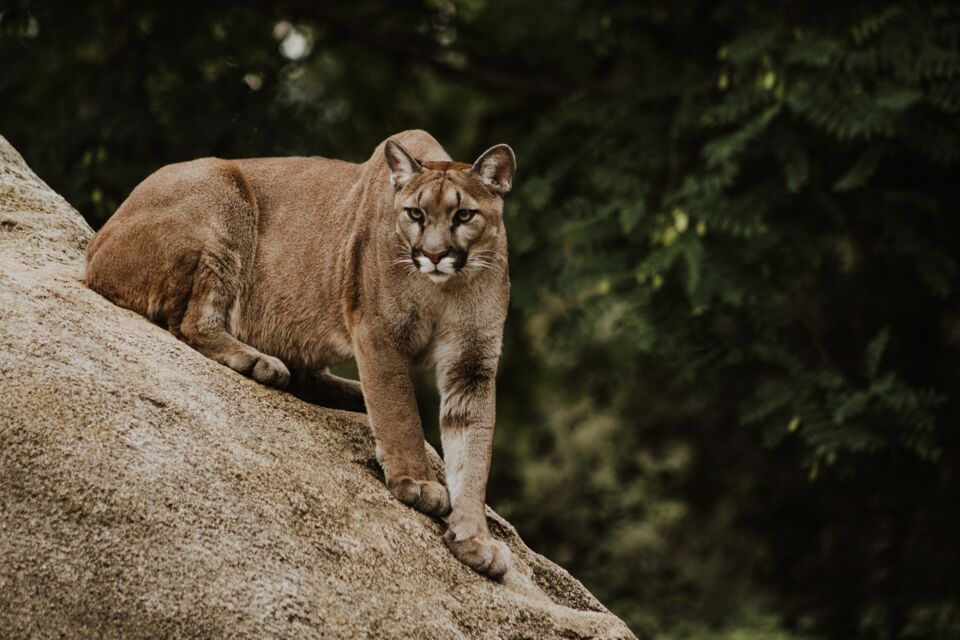 They said in their Facebook post:
The dog is believed to have been attacked in the yard and not in the foothills. Please be aware of your surroundings and know where small children are at all times. Please consider bringing pets indoors. Be safe out there.
Though they have not yet found the mountain lion that attacked Ella, the authorities did find the animal's tracks in the yard where the fight happened.
Read more:
⋙ This clever police dog helped to uncover one of the biggest drug crimes in history
⋙ Dog adopts orphaned ducklings after their mother disappears
⋙ War In Ukraine: This 'minesweeping' dog has sniffed out hundreds of Russian explosives